Software is rewriting business, says CA CTO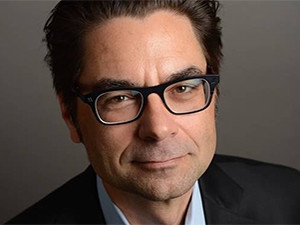 Business is being rewritten by software. Information technology as we know it is dead. What was once a 'maintain the servers' and 'keep the lights on' mission has evolved into an endeavour to get customers returning again and again.
"Keeping the lights on is still very important today, but our greater responsibility is creating software applications, collaborating to create new software every day, and scaling up for constant innovation to achieve business advantage."
So said Otto Berkes, CTO at CA Technologies, speaking at the CA IT Management Symposium at Vodaworld yesterday. Speaking to an audience of 1 500 local IT professionals, Berkes said digital transformation at its purest level means using digital technology, particularly software, as a source of new growth and innovation for the business.
"To be successful in any business, you've got to be in software business," Berkes said, adding that business must look for software-based solutions for pressing business problems and be able to create new applications on the fly to respond to evolving customer needs.
However, this goes beyond applications, he says. "While apps are at the heart of software - driven digital transformation, there are related pieces to transformation that may not be quite so obvious." One is analytics, or "the ability to gather business insights and take data from its direct relationship to the application, and translate this into opportunities to inform the business on how to respond to a specific need, and provide greater value back to the customer."
A look at the trends
There are several trends driving digital transformation, says Berkes. "Firstly, containerisation, essentially slicing big and complex apps into more manageable parts that deliver microservices. This in turn drives the need for small, focused development teams, so that upgrades and new feature development can be delivered instantly. This approach is particularly well suited to SAAS (software as a service), but on-premises apps can also benefit."
Secondly, he cites data analytics. "Data is growing exponentially. The world's five billion mobile users have turned themselves into living data streams. For example, YouTube receives 24 hours of video every 60 seconds. Companies are getting more detailed pictures of their customers all the time. Interestingly, 30% of Amazon's sales are generated by its recommendation engine. That translates into $26 billion of revenue all generated by software. Businesses need to ask themselves if they are harnessing all the power of their data."
The next generation of customers will undoubtedly evaluate brands more on their digital capabilities than their physical presence.
Berkes says other questions companies need to ask themselves are: "Would they be able to handle doubling their online service capacity in six months? Success brings challenges that businesses need to be prepared for. In addition, they should ask how often they can update their applications. Monthly, weekly? How quickly can they deliver new value to their customers?"
Thirdly, he says, to ask if their software is providing meaningful insights and actionable information to the business. "You must be able to use your data as a source of deep knowledge."
Next, businesses need to ask whether their software is deepening the engagement with their customers. "Are your applications making customers less likely to move to a competitor? Customers need to be at the centre of your digital transformation."
Achieving digital transformation
He offers several tips to achieve successful digital transformation. "Integrate design, development and operations. Transformation must flow from 'scrum team' level to the most senior people in your organisation. Get something up and running quickly, and iterate from there. Being able to iterate quickly is the key to building something great, and an Agile mindset is vital. Be directionally accurate rather than precisely wrong."
Everything that we're talking about is Internet-connected, having that fabric is an absolute necessity.
Next Berkes advises to focus on services that leverage the business data. "That's what APIs allow you to do. Without robust services, your application is a hollow shell with zero value. Robustness, scalability and security are key."
"Instrument everything. You need to know at every moment how your technology stack is working. Robust instrumentation and management of your operations will help you find the source of the problem quickly, to speed up resolution."
Finally, secure everything, he says. "Applications and APIs increase the surface area for threats, and breaches can destroy trust instantly. Security requires a holistic approach that must be addressed with heuristics and intelligence, not roadblocks. It must be built into every aspect of design and deployment, it is one of the biggest concerns in business today."
A local view
Talking about how SA is measuring up in terms of digital transformation, he says one of the challenges is broadband. "Everything that we're talking about is Internet connected, having that fabric is an absolute necessity. Achieving robust high performance broadband will be essential to realising the full promise of what is possible. Having said that, from the conversations I've had, there's an incredible amount of activity and progress in achieving digital competency and navigating through this disruption in SA."
Alongside the need for infrastructure, there is a related need for people with skills in the industry, he says. "Skills are another area where investments are needed. It's absolutely a local problem, but it's global too. Governments should do more with education, companies need to invest in their staff. There needs to be greater co-ordination of current investments, and the pipeline of talent development needs to be nurtured from school level, to university, to the workplace. Public, private partnerships would also be effective."
In conclusion, he says software is changing the face of the world as we know it. "The next generation of users and customers will undoubtedly evaluate brands more on their digital capabilities than their physical presence," he elaborates. "I think we'll look back in five or ten years, and recognise this moment in time as being a tipping point for the role of technology and software in particular in the enterprise - the transition of software to being an integral part of businesses, and an absolute core driver of businesses going forward."