Are today's networks on the verge of obsolescence?
As remote working becomes the norm, companies could see the death of their existing network and security models due to substantial changes in network traffic patterns.
The COVID-19 pandemic has prompted a global shift toward an ever-evolving remote and distributed workforce. While this phenomenon has been recognised and encouraged by a number of business leaders, they may soon be faced with the obsolescence of their existing corporate network and security models due to substantial, on-going changes in network traffic patterns.
With significant numbers of employees continuing to work remotely, the migration of data and applications to multiple cloud platforms continues to gather momentum. This is predicted to increase in the post-pandemic era. As a result, many networks currently in use by even the most tech-savvy organisations will rapidly become overwhelmed and outdated.
Change is required. The distributed enterprise can no longer be adequately served by existing, ageing networking technologies and security solutions.
Specifically, concerns are being raised about remote users and locations compromising security and there are worrying issues surfacing around the cost and complexity of high-bandwidth connections. At the same time, businesses are having to meet the challenges associated with concurrently managing multiple security and networking solutions.
In a previous column, I suggested that the implementation of emerging technologies complemented by advanced, more sophisticated business processes will be required in order to better support customers and deliver seamless experiences for them.
Undoubtedly the time has come for organisations to better support the remote workforce – and the customers they serve − by moving towards reliable, performance-oriented, secure connectivity among offices, remote users, data centres and cloud services.
However, there is a key hurdle to overcome before this goal can be successfully met. How to accommodate the ageing Internet? Designed nearly six decades ago, the Internet's inventors could not have envisioned the multiple-cloud requirements of the 21st-century enterprise.
Consequently, the long-relied-upon core, centralised, IP-based paradigms for networking and security are on the verge of obsolescence. They will need to be replaced.
Designed nearly six decades ago, the Internet's inventors could not have envisioned the multiple-cloud requirements of the 21st-century enterprise.
Importantly, it will no longer be prudent to offer makeshift solutions – in the form of firewalls, virtual private networks (VPNs), software-defined WANs (SD-WANs), Multiprotocol Label Switching (MPLS) and WAN optimisers, among other solutions – in order to resolve the fundamental network hitches and glitches now regularly raising their heads.
For example, problem areas include poor application performance fostered by solutions backhauling traffic or routing it inefficiently through multiple centralised proxies while relying on the Internet's legacy protocols.
Other concerns include increased complexity and costs which are becoming endemic as multifaceted solutions are required to squeeze more performance out of older networks in order for them to securely perform today's required tasks.
Security, as always, is a prime concern and must be highlighted as current networks often lack the foundation of true zero-trust and segmentation that should apply to all traffic.
What's the answer?
These challenges have focused the attention of many of the brightest minds in the industry, spawning – in one case − a new software solution described as a "secure global LAN (SG-LAN) optimisation platform" by its developers.
The platform comes in the form of a proprietary, virtualised, distributed, self-optimising (using machine learning) network technology designed to connect all network nodes regardless of their physical location or network configuration.
One key advantage, according to its originators, is that whether the network nodes are in the same data centre, cloud or anywhere across the globe there is no need to backhaul traffic or force it to traverse a potentially much longer route − as is the case with existing solutions that rely on centralised gateways. Another "plus" is said to be the SG-LAN's leverage of advanced, faster communication protocols.
Commenting on the new development, Richard Stiennon, founding analyst of IT Harvest and a former Gartner vice-president, said in a published statement that "connecting the modern enterprise calls for a new, cloud-native paradigm that will allow it to create its own private, secure, high-performance network connecting all users, devices and cloud services − converging both security and performance and doing so without requiring complex and costly hardware or infrastructure".
In this light, the new SG-LAN technology claims to fit the bill and is directly targeted at organisations with a distributed workforce as the software facilitates the creation of private networks capable of connecting all users and services as if they are on the same local network.
This is reportedly achieved using existing network resources, without the need to deploy additional hardware or change the underlying network foundation. Security is addressed, as end-to-end encryption, native zero-trust networking and micro-segmentation are all incorporated in the specification.
An important benefit associated with the platform, note the developers, is that no IP addresses are used to establish network connections. Instead, a proprietary identity-based routing algorithm is applied to locate a destination node.
Rick Kaplan, partner at venture capital firm MizMaa Ventures, says the use of SG-LAN technology will allow companies to "extend their perimeter to allow easier, faster and more secure access to all cloud and on-premises resources for remote, mobile and branch users".
Perhaps the last word should go to Adi Ruppin, Forbes Technology Council member and co-founder and CEO of the San Francisco-based start-up that developed its own branded SG-LAN technology platform: "[From a networking perspective] we have been focusing for too long on connecting the headquarters and branches. Now, with everybody working remotely, VPNs are stretched to their limits and made obsolete.
"These legacy, centralised solutions fail to effectively address our new distributed network. A distributed network requires a distributed solution. Otherwise, we are basically trying to fit a square peg into a round hole," he says.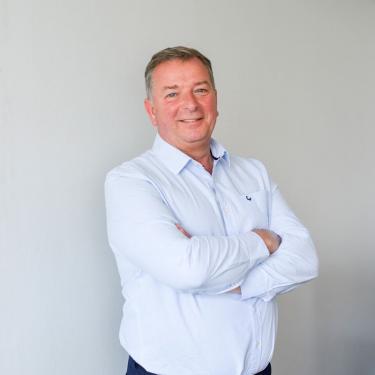 Director, Duxbury Networking.

Paul Stuttard is a director of specialist distributor Duxbury Networking. Currently Cape-based, he has been with the company for 29 years and has extensive experience in the IT industry, particularly within the value-added distribution arena. His focus is on the formulation of future-oriented network optimisation strategies and business development objectives in collaboration with resellers and end-users in Southern Africa.