Local farming start-up gains international attention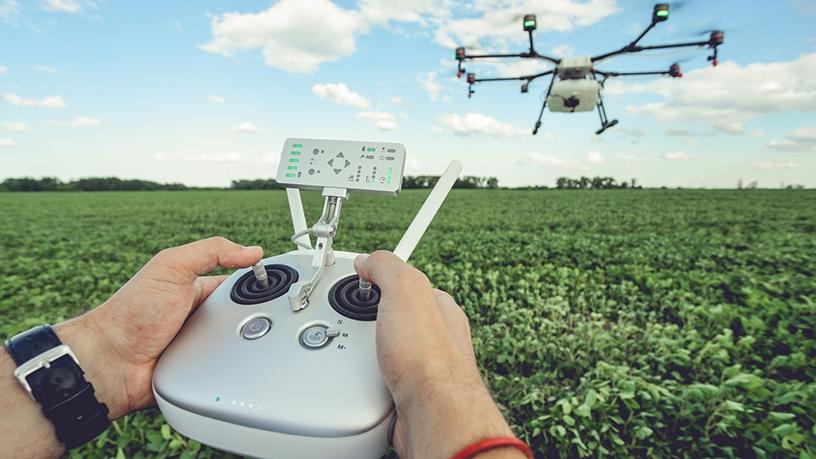 Aerobotics, the Cape Town-based start-up that uses drones and machine learning technology to help orchard farmers optimise their crops, has secured a second round of funding from six investors, some of which are based in the US.
The lead investor was Nedbank, joined by US-based Agfunder, US angel investor Joe Caruso, an investor from the Web site Angel.co Lee Edwards (who is based in Silicon Valley), and local investors Justin Spratt and Ingwe.
The start-up would not divulge how much money it raised, but Benji Meltzer, Aerobotics co-founder and CTO, told ITWeb the amount is "significantly larger" than the first round.
Last year, the start-up secured a joint R8 million seed funding round from technology venture capital firm 4Di and the Savannah Fund in Kenya.
The company has grown from 20 to 32 employees in the last six months, mainly on the operations and commercial side.
Meltzer says Aerobotics has started actively running pilots and proof of concepts with some major corporates, including Deloitte and Nedbank.
Counting trees
"We have done a few proof of concepts on tree counting audits. So, currently to audit a farm, one of the things they do is count the trees and this is obviously quite a manual process. Using our technology, they are able to do this much more accurately, efficiently, and we can give a lot more information than just a count, like how the trees are doing.
"In this case, it was Deloitte going in with our technology; the farmer did not necessarily already use us. But the way we foresee this working out is very much like a Discovery Vitality model, where corporates could offer this service to the farmer and potentially subsidise it to some extent. The farmer could get the value of the technology in managing their risk etc, and at the same time the corporate could get the data."
He says the company has also started working more actively with some of the banks.
"From a finance perspective and loan applications, there the whole concept is that the trees on a farm are a biological asset and how well they are doing is a measure of how well the farm is doing, and is a measure of how risky the farmer is as a client."
Meltzer says along with the funding from Nedbank, Aerobotics will go into partnership with the bank to access all the farms on Nedbank's books, helping it raise the quality of data on the farms, and helping farmers potentially reduce their interest payments and risk.
Aerobotics currently only focuses on tree crops. The company has over 500 users in SA, Australia, Spain, New Zealand, Malawi, Kenya, Bolivia, Zimbabwe, Mozambique and the UK.
The value of tree farms is massive, says Meltzer, explaining why banks would be interested in investing so much in technology for these specific farms. "Especially for nut trees like macadamia nuts, where South Africa is one of the leading exporters globally, as well as avocado, lemons; the prices of these fruit are going mad. As a result, it is obviously quite an attractive space for the banks."
However, Meltzer says, even though Aerobotics is doing these proof of concepts, the focus of the business is still on farmers and helping them optimise their crops.
"Our vision has become a bit clearer and narrowed: it is to help tree crop farmers with crop protection, and specifically to mitigate their risk. And the current product we are offering, from a pest and disease management perspective, is obviously one way of doing it but at the same time offering them a good financial service through a bank is also a way to mitigate risk."
Machine learning is core
Aerobotics employs four data scientists full time and has four data science interns from the University of Cape Town and two from Duke University in the US.
Commenting on the lack of data scientists in SA, and how start-ups can keep talent, and not lose them to bigger companies like Amazon Web Services (AWS), Meltzer said the innovation and ability to make a difference has been enough for Aerobotics to attract talent.
He also said every employee gets a share in the company.
"I think the difficulty for us is that there haven't been many tech start-up 'exits' in South Africa, so the value of the shares is a bit tricky to get across, and the potential upside."
Meltzer says Aerobotics plans to grow aggressively and sell the business within the next five to 10 years.
"We host a lot of our cloud infrastructure on AWS, our Web application is hosted there and we are experimenting with some of their machine learning capabilities." (The company presented a case study at the AWS Africa Summit in Cape Town last week.)
"I think you see a lot of businesses where machine learning is this sexy little peripheral thing they are pulling in but we are very much a machine learning first company. Without it, our product doesn't make sense. The machine learning we are using is all proprietary, but hosted and run on AWS, where we leverage the cloud compute capacity to train massive models at scale and to deploy."