Asus wants piece of the Raspberry Pi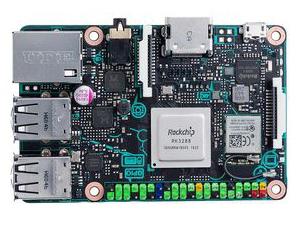 Computing company Asus has released a low-cost mini-computer board, the Tinker Board, similar to the popular Raspberry Pi.
These computer boards are a no-frills computing system popular among hobbyists and educators, with a large growing open source software community, and a wide selection of add-on modules and sensors.
The Tinker Board features an on-board processor faster than the latest Raspberry Pi, WiFi and Bluetooth capabilities, as well as 4K resolution support.
The various connectivity integrations mean the Tinker Board can be used for Internet of things development projects, while the 4K support will allow users to create a custom home theatre system.
Last year, the company behind Raspberry Pi added two new versions of its mini-computers, the Raspberry Pi Zero and Raspberry Pi 3. The third generation low-cost computer board is available in SA through reseller RS Components for R642.
It is not known yet when or if the Tinker Board will be stocked in SA. However, it is available for pre-order from stockists in the UK for £55 (R924).
Specifications:
Quad core 1.8GHz ARM Cortex-A17 CPU
2GB dual channel LPDDR3 memory
Gigabit LAN and Bluetooth 4.0 + EDR connectivity
802.11 b/g/n WiFi
4x USB 2.0 ports
40-pin internal header with 28 GPIO pins
Contact points for PWM and S/PDIF signals
1x 3.5mm audio jack connection
CSI port for camera connection
DSI port supporting HD resolution
1x HDMI 2.0 port to support 4K resolution
Micro SD port supports UHS-I
Supports Debian OS with KODI
Power supply: 5V/ 2A Micro USB (not included)