ShowMax tempts but beware data costs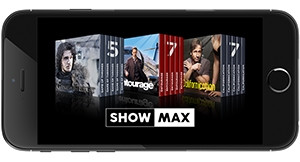 Although on the surface, Naspers' new video-on-demand service seems great value for money at R99 a month for over 11 000 hours of viewing, SA's high data costs will add up quickly. Another consideration is that only certain areas have the required Internet speed to support the service.
ShowMax has been positioned as a competitor to Netflix. However, in the US and other countries where Netflix is available, the amount and cost of data needed to stream entertainment is not a consideration. South Africans are more data-conscious due to much higher Internet prices.
Tech analyst Liron Segev ran a test on the service this morning and found a 20-minute viewing used 250MB of data. A single sitcom episode is typically 22 minutes long, while a movie could run to two-and-a-half hours.
"There is likely to be an initial rush to try the service, as the offers appear to be good value. However, there may be some disappointment if the data usage exceeds expectations," says ICT analyst Adrian Schofield.
Multiple devices
The service is available today to all South African consumers via an app download on an iOS or Android device, through a Web browser on a computer, and on Samsung and LG smart TVs.
ShowMax was launched last night, with content adding up to more than a year's continuous viewing of series, movies, documentaries, children's shows, and an array of local content.
There is a free seven-day trial period, with access to the whole library to test the service, thereafter it costs R99 per month. This subscription allows access via five different devices, and two different video streams can be watched simultaneously on separate devices using a single subscription.
Target market
ShowMax will focus first on the one million households in South Africa with good Internet speeds, said ShowMax GM John Kotsaftis at the launch yesterday.
There are only some areas in South Africa that have the bandwidth to support the service, says Schofield. "You would need a reliable 2Mbps connection to have a good streaming experience. All too often, the nominal speeds offered by the service providers are not achieved in reality over a consistent period. The patchy coverage of high-speed broadband access is likely to limit the market for ShowMax to high LSM consumers with fibre, ADSL or LTE-A connections."
A credit card or PayPal account is required to pay for the service, which suggests it is aimed at a certain calibre of people, says Segev. "If the user has uncapped fast Internet, then it is not a problem but there is no chance, no matter how much they earn, they will stream from their phone if not connected to WiFi."
Competitors
Although owned by the same company - Naspers ? DSTV and ShowMax are separate entities, each with its own premises. The companies will compete for the same market and individual consumer viewing habits will dictate which is chosen.
Segev says there may be a shift from DSTV to ShowMax, especially for those who don't watch sport. Each service offers a different experience but there will be an overlap in some content.
Kotsaftis says ShowMax will offer full series and will appeal to those who want to 'binge watch'. ShowMax will not feature episodes the same time as they first air in the US, like DSTV sometimes does.
"When Netflix is available in South Africa, it will be a content game, viewers will go to who has the content they want to watch. ShowMax now has to capture as much of the market as possible and show them the great content they have on offer, in the hopes they will stay when Netflix arrives," says Segev.
In January, it was reported Netflix hopes to add another 150 countries to its portfolio in the next two years, taking its reach to 200 countries around the world. Netflix has been rumoured to be in talks with local operators around bringing its services to SA before the end of 2016.
The service is (legally) available to viewers in North America, Australia, New Zealand, South America and parts of Europe. Netflix has over 42 million subscribers in the US, and added 2.4 million international subscribers and 900 000 US subscribers during the second quarter of this year.