Tinder-like app helps moms meet other moms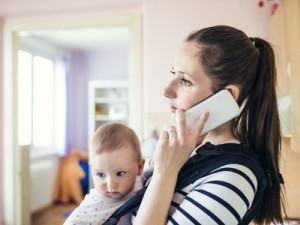 A new iOS app aims to connect mothers with other like-minded nearby mothers through a platform similar to popular dating app, Tinder.
The app, called Peanut, is aimed at new moms who want to find new friendships, rather than romantic dates. Like Tinder, it lets users swipe over profiles to show interest. A swipe up sends a wave to the other user, a swipe down skips the other user's profile.
Profiles showcase users' interests, situation, location and ages of offspring.
One of the co-founders, Michelle Kennedy, previously worked as deputy CEO for online dating company Badoo.
She told TechCrunch the idea came to her when she had her own child and found many of the mom communities online to be a bit "old-fashioned", more like forums and not a place to make friends.
Peanut encourages users to meet up in person, with options to create a group chat, suggest an activity and meeting time. When finalised, a calendar invite is sent to all group members.
Not for everyone
The app requires users to have a Facebook account. Moms who have decided not to have a profile on the social network are excluded from the app.
A potential user, called KittyWags, said in a comment on the app in the App Store: "I cannot begin to describe my utter sadness at this. I was really excited to hear that there was an app for mamas like me who really just need a friend. But I don't have Facebook. I deleted it for personal security reasons and I don't intend to ever get back on. And to know that I am further ostracised because I'm not a part of the 'cool crowd' is disappointing."
Another user said she hates connecting apps through Facebook, but decided to give it a try. She said she was not able to use it as the app told her: "Sorry, Peanut is only for mamas," which meant she had not shared enough information on Facebook to show she was a mother.
However, other users seemed pleased. Yurim61 said she had been waiting for something like this and had already made plans to meet up with someone. Cjteedah said she found the app great for connecting with other people without having to leave the house and recommended it to others.
The free app is available in the US Apple App Store. It is not known if the company has plans to expand it to Android and other parts of the world.