Gauteng traffic police adopt Namola app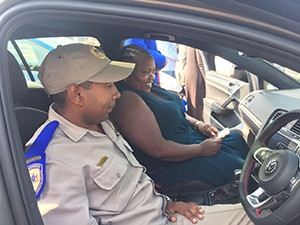 Safety and security app Namola is now available to all residents of Gauteng. The app uses GPS co-ordinates to map locations in partnership with the Gauteng traffic police control room.

Speaking at the launch event held at Rathanda Shamila taxi rank in the Sedibeng district of Gauteng, Namola chief ambassador Yusuf Abramjee said the launch of the app in the region is a great showcase of the power of the combination of technology and manpower.

"We are delighted today to officially launch the pilot project. We are also talking to the leadership of the South African Police Service and hopefully very soon we'll be able to take it to the 10111 centres."

Gauteng community safety MEC Sizakele Nkosi-Malobane encouraged community members to download Namola, as it would help to reduce response time dramatically.

On the launch day, 30 cars were fitted with Namola tablets while 33 officers have attended Namola training at a local army base.

Namola is an advancement of the StellieSafe application piloted in Stellenbosch by former Vodacom boss Alan Knott-Craig Jnr.

It was designed by Happimo, a non-profit organisation, to be inclusive and is accessible to anybody with a GPS-enabled smartphone.

Activating the app in an emergency situation results in a dispatch of the nearest emergency responders to the citizen's GPS coordinates. The system also allows for live tracking of vehicles and alerts to improve accountability and responsiveness.

The app was initially only integrated to the Tshwane metro. Brooklyn SA Police Service was one of the first units to join forces with Namola to implement the technology within the Menlyn Central Park area.

Following the integration, Brooklyn police station commander brigadier Kushie Nair said the app is revolutionary.

"Giving the people of Tshwane immediate access to our police service is empowering for them and ensures improved efficiency in our operations. It enhances all crime-fighting resources. It gives community members another tool which will give them access to the police during emergencies."

So far, 135 metro police vehicles in Tshwane have been equipped with tablets for the app.

The app is available on Google Play and the Apple app store.