Facebook steps into social virtual reality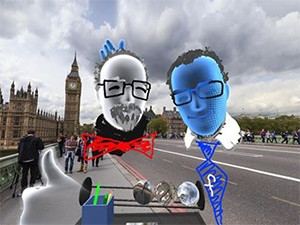 This week, Facebook revealed how it sees virtual reality (VR) integrating into social media. The plans involve bringing people who are physically in separate places together in the virtual world.
The company demonstrated its early attempts at this on stage during the second day of its annual F8 developer conference in San Francisco.
Facebook CTO Mike Schroepfer put on a VR headset during his keynote address and met up with Facebook product manager, Michael Booth, in London. Booth was wearing a VR headset at the company's headquarters in California.
The pair were able to interact with each other as avatars in virtual London, 'hopping' between sights and attractions, and they even took a selfie.
"Schroepfer and I demonstrated a simple exploration we've hacked together which shows the potential of VR for social interactions," says Booth on his Facebook page. "Physically, he was in San Francisco and I was 48km away in Menlo Park, but as soon as we both put on our headsets, we were together, sharing the same virtual space.
"But it was more than just an awesome conference call ? we could visit faraway places, literally stepping into 360 photos, touring the sights of London, and visiting the hangar where Facebook's Aquila unmanned aerial vehicle is housed," says Booth.
"This is just the beginning of our exploration into how people can connect and share using today's VR technology. There's a lot more work to do and many more challenges to solve ? such as how to better model ourselves within VR, so we can elevate 'presence' from a disembodied head."
Facebook announced it has formed a Social VR team to focus solely on tweaking this experience.
"Virtual reality has the potential to be more social than any other platform," said the company in a statement. "Our recently established Social VR team is exploring how people can connect and share using today's VR technology, as well as long-term possibilities as VR evolves into an increasingly important computing platform."
Facebook says some of the challenges facing the Social VR team include "combining a sense of presence with the ability to interact with the environment and communicating through body language as well as voice".
Booth uploaded a separate behind-the-scenes video to his page, which showed what he looked like while in virtual London.
The video demonstrates the beginnings of what could come in virtual reality. However, Brian Neilson, director at BMI-TechKnowledge, says VR will take relatively long to take off and become widely adopted.
"Long-term, one can imagine the possibilities. You are shopping for a holiday and as part of pre-planning you can take a VR tour of various options, including the sights/experiences and a preview of your accommodation and transportation options. This would quickly be integrated into tourism marketing activities, and Facebook could be a big part of that," says Neilson.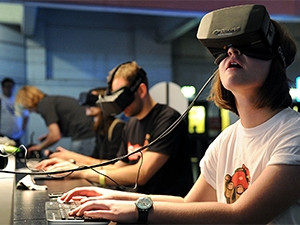 Arthur Goldstuck, World Wide Worx MD, disagrees with Facebook that VR will be the most social platform. "I think the intention of that stance is to drive up the value of its Oculus Rift investment. Augmented reality [AR] has far more potential, as it allows one to combine virtual and social with the real world. That is the richest experience one can have.
"The fundamental problem with virtual reality is that one is confined to a specific virtual world conceived by the content creators of that world, whereas AR allows one to interact with any number of disparate worlds as and when they suit you best."
Connecting the world
Schroepfer also spoke about new developments in Facebook's Connectivity Lab and the company's plans to help connect the unconnected.
An estimated 1.6 billion people use Facebook and the social network is seemingly on a mission to get the rest on board too. This, however, will require everyone to have Internet access.
Facebook announced two new terrestrial systems which will focus on improving the speed, efficiency and quality of Internet connectivity around the world.
The first, Terragraph, is a wireless system to bring high-speed Internet connectivity to dense urban areas. It will work by deploying a series of 'nodes' around cities. "Given the architecture of the network, Terragraph is able to route and steer around interference typically found in dense urban environments, such as tall buildings or Internet congestion due to high user traffic," the company said in a statement.
The second is Project ARIES. This is a proof-of-concept research project to provide wide-coverage connectivity to areas with low population density.
More technical information on how the projects will work can be found here.