E-tolling is a 'house of cards'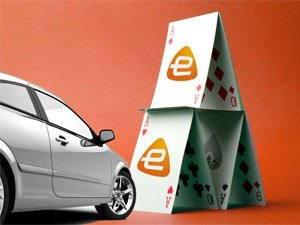 Government's controversial Gauteng e-tolling system is a house of cards that is doomed to fail, as the vast majority of people are dead set against it and will not participate.
This was evident from sentiments expressed at the public hearings that have taken place over the past two nights. While Tuesday's Kempton Park meeting saw a poor turnout - with only about 60 people in attendance - last night's public hearing in Pretoria was well attended, by up to 300 people.
Emotions ran high and tempers flared as members of the public vocalised their mistrust of the government, defiance against what they see as a new and unnecessary tax, and government's disregard for the people's voice.
According to Wayne Duvenage, chairperson of the Opposition to Urban Tolling Alliance (Outa), the message - "loud and clear" - is a resounding and absolute rejection of the e-toll system.
He says the consultation process has raised rage and defiance. "The authorities said the hearings are for the purpose of discussing e-toll tariffs, but the public feels this is futile, when [the government] hasn't even taken the people's frustration with and objection to the whole system into account."
Transport minister Ben Martins announced last month that the inter-ministerial committee had taken a resolute decision that e-tolls would be implemented. The gazetting of the latest tariffs on 25 October marked the beginning of a 30-day public consultation process, after which Martins would take two weeks to "apply his mind", and another two to gazette the consequent final tariffs. This would mean e-tolling would commence just before Christmas.
Fated failure
Duvenage says, ultimately, e-tolling is destined to fail. "There is a growing chorus of absolute objection to e-tolling and I am sensing that the public is not going to participate. That will make it ungovernable and, like in other parts of the world (Hong Kong, Manchester and the US, for example) where society has rejected proposed tolling, it is likely to fall flat."
He points out that, in each case in which tolling has failed, the reasons were three-fold: a lack of trust by the people in the system, their lack of trust in the government itself, and an aversion to paying money into state coffers that will inevitably be squandered and fall prey to the government's ineptitude and maladministration.
"When you add all these attitudes together, these factors are at play here too and I think SA is going the same way. Ultimately, I don't think it can work - the public will make it ungovernable. Rules are only as good as they are governable and [e-tolling] is not workable or governable - it just doesn't have the trust and support of the people."
Consultation charade
The Congress of South African Trade Unions (Cosatu) said last night it was "angry" about how the public hearings have gone so far, calling the process an "e-toll consultation farce".
"Cosatu is angry that in the first of the public consultation meetings on the proposed e-tolls for Gauteng highways, government officials and the SA National Roads Agency (Sanral) tried to prevent any discussion of people's principled objections to e-tolling, but tried to confine the discussion to the level of the tariffs.
"Residents at the meeting, the overwhelming majority of whom voiced their opposition to the e-tolls, were angry that having at last had an opportunity to discuss the tolls, they were told that Cabinet had already agreed to the proposal and that these meetings could not change that decision."
Cosatu's national spokesperson, Patrick Craven, says this is unacceptable. "[It] turns the consultation meetings into a farce."
Cosatu is urging Gauteng's residents to attend the last meeting tonight and "be ready to take to the streets to demonstrate their opposition to an attempt to force us to pay for a basic public service".
The federation has called for a day of "civil disobedience" on 30 November, as a protest against e-tolls. Craven says the public needs to tell government and Sanral: "No to e-tolls! No to the privatisation of our roads! Give us safe, efficient and reliable public transport!"
Cosatu says details of the mass action will be announced soon.
Unanswered questions
Official opposition the Democratic Alliance (DA) says last night's hearing was a sham, "leaving more people with unanswered questions than with confidence in the system".
Many residents ended up walking out on the four-hour-long meeting out of frustration, as they felt their questions were not properly answered.
Fred Nel, DA Gauteng deputy spokesperson on roads and transport, says, to add insult to injury, those that made the decision to forge ahead with e-tolling were conspicuous in their absence last night. "Transport minister Ben Martins, finance minister Pravin Gordhan, and Gauteng roads and transport MEC Ismail Vadi were nowhere to be found.
"The government notices that were discussed last night were issued by minister Martins and, therefore, he should have been there to address questions of those he serves, the citizens of SA."
Nel says government wastage and corruption drain almost R60 billion from public money every year, at national and provincial level. "This alone is sufficient to fund the entire e-tolling and Gautrain projects in cash, while rehabilitating another 7 000km of roads. In the light of this, the resistance against the e-tolling system should, therefore, not come as a surprise. Government has a lot to answer for."
But despite the hue and cry, Nel says government seems hell-bent on implementing the e-toll system. "Last night's hearing was a clear indication that it is preparing for the green light to launch it. Government is no longer considering scrapping e-tolling unless the courts stop them."
At the end of the day, says Duvenage, the public's standpoint is patent: "This is one tax too far and we will not participate." He says he cannot envisage government making the system work in the face of such overwhelming and widespread contempt.
"It is a house of cards that is going to come crashing down."