Total Startupper winners graduate from Gibs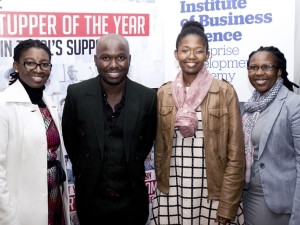 Five of the winners from the South African and Namibian leg of the Total Startupper challenge were awarded a Gordon Institute of Business Science (Gibs) Enterprise Development Academy Certificate of Completion during a ceremony held at Gibs in Illovo, Johannesburg last week.
The South African Startupper Challenge winners, Bathabile Mpofu from Kwazulu-Natal and Themba Sehawu from Mpumalanga, graduated along with winners of the Namibian leg of the programme: Collin Uirab, Peter Tshithigona and Toivo Thomas.
Mpofu and her business partner's winning idea was Nkazimulo Applied Sciences' ChemStart, a mini chemistry kit with 52 different experiments that high school learners can do on their own, at school or at home, answering a need for increased support in science, technology, engineering and mathematics (STEM) education in South African public schools.
Sehawu's winning idea was Senovates' Omniharvester, a fruit picking machine that allows people to harvest fruit without having to elevate themselves. The prototype stage of the product has been completed and will be launched soon.
ConnectMed, co-founded by Oyena Zwelijongile Gwebityala, Melissa McCoy, Smisosenkosi Skosana and Sekeitto Allan-Roy, was the third runner-up.
ConnectMed is a telemedicine platform broadly tailored to the current medical and technological landscape of the African continent. The project was implemented in Kenya due to policy restrictions in SA.
Speaking about the curriculum, Sehawu said: "One of my highlights was definitely product positioning. I learnt that while there are many ways to sell my products, I must always ensure my business's lifespan is not compromised, and I must steer clear of strategies that can sell me out of business. I had never considered that before. I think that is the thing with winning the Total Startupper Challenge, that going through the training and mentorship availed tools that got me thinking and considering certain aspects of running a business I had never considered."
Mpofu says she found the financial education most compelling. "Working with the mindset that I must run this business venture with the idea that I would sell it to investors or other bigger businesses later - something I had not considered before. I'm currently working on developing interactive video content for all the experiments to accompany the Curriculum Assessment Policy Statement aligned ChemStart kit. I think interactive video content will make a huge difference in the way learners interpret and follow the manual that comes with the kit."
The Total Group launched the Startupper of the Year initiative in October 2015 across 34 African countries simultaneously. The winning projects received a share of the R1 500 000 prize money, were enrolled in business coaching and are the current title-holders of the Startupper of the Year 2016.