Seartec repositions to boost revenue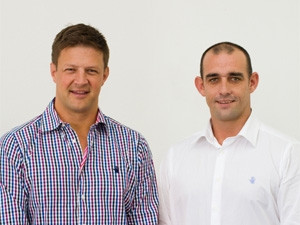 Seartec, local distributor of the Sharp electronics brand, is positioning itself to grow within the education sector, as well as data and new products, as it seeks to boost its top line 17% on a compound annual growth rate basis.
The company went through top-level changes last year when rugby legend Bob Skinstad joined it as chief marketing officer, and Mark McChlery (from Itec) was appointed as CEO. McChlery says the group will add products and services to its offerings to grow organically.
McChlery and Skinstad have a history of working together, having met and worked together at Itec Innovate. It was during this time they came into contact with the Seardel Investment Corporation, owner of the Seartec brand, which was looking for new leadership to reinvigorate the brand in the South African market.
Seartec has been around for some years, but has been flying under the radar, and has just been relaunched, with a new focus and management. In addition to Sharp products, the group has acquired some complementary businesses to run under the Seartec banner, and is investing in innovation, including a new data hub in Cape Town to allow cloud computing facilities, says McChlery.
Parental support
McChlery says he and Skinstad took up the challenge to boost Seartec's growth through diversifying its portfolio of branded products. He notes listed Hosken Consolidated Investments, the indirect holding company through its stake in Seardel, is in support of turning the 46-year-old company into one that provides technology-as-a-platform.
The company has 12 branches, with 325 staff across the country, and wants to boost revenue by almost 20% every year, says McChlery. The Cape Town centre will be a tier three operation and will be replicated elsewhere before being offered as a service, he notes.
Seartec has also acquired Limtech, a supplier of CCTV, access control and security solutions; and Officebox, an online supplier of stationery and office products.
Making inroads
McChlery says repositioning is "going well" and the company has achieved several milestones in the last eight months, including a total rebranding and refreshing its relationship with Sharp. Sharp has also been through a turnaround and has restored its fortunes, he notes.
Sharp has an aggressive strategy to boost its global position through products such as phone screens and calculators, McChlery adds. He says Seartec has several initiatives in the pipeline, which are particularly aimed at tapping the need to boost education.
McChlery says the group wants to make a meaningful contribution to boosting SA's global rankings. "We're working on something that needs work." Last month, a damning World Economic Forum report ranked SA's quality of mathematics and science education as last among 148 countries. The Department of Basic Education spurned the report, saying it was "not a credible or accurate reflection of the state of education in SA".
"We want to build a sustainable business, not necessarily the one that sells the most or the cheapest. We want to appeal to a market that values value over cost, so customer retention and relationships are key. Quick wins don't mean anything," adds Skinstad.