SA Banks target Generation X through apps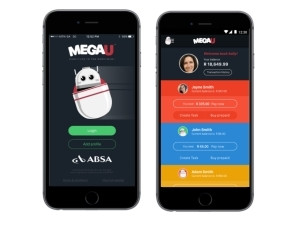 Absa has extended its MegaU Youth campaign, which includes a free bank account for youngsters under 18 years, by launching a banking app geared specifically for the youth.
According to the bank, the MegaU App for Kids will enable users to actively track earnings and spending transactions and in so doing create visibility and encourage a culture of saving in mind.
"The incubation and solutions team in the digital division worked on the idea of providing a tool for parents to teach kids about being responsible with money while ensuring kids had fun while learning about managing their finances at different stages of childhood. The idea was first conceived at one of our hackathons and then went through a lean agile development process to get to the launch of the app in line with Absa's MegaU proposition. Many lessons were learned around how compliance can slow down innovation and how the team worked tirelessly to overcome many legal hurdles to ensure they managed the parent-child relationship correctly," explained Brett StClair, Head of Digital Product Management at Absa.
The app enables parents, who have linked Absa accounts, to set and track a savings goal for their kids and also create tasks for them to be monetarily rewarded for successful completed tasks. The app is also zero-rated.
A year ago, Standard Bank introduced a Kidz Banking App, which is a game-like, animated banking app designed for children aged six to 11. The app features characters themed on SA's big five that assist parents in guiding children on money management concepts such as earning, saving and responsible spending.
Nedbank, meanwhile, is working on a similar app for their 2018 fiscal year, but do have an online financial management tool, MyMoneyMap, for children to manage their finances better.
First National Bank and Capitec both have youth tailored accounts that are integrated within the respective banking apps.
According to the 2017 Sunday Times Generation Next youth survey, the youth have immense buying power, amounting to R137.3bn of their own money, with a 66 % influence on household spend.
The MegaU App for Kids is available on Google Play and iTunes.