Google to ease mobile pop-up frustration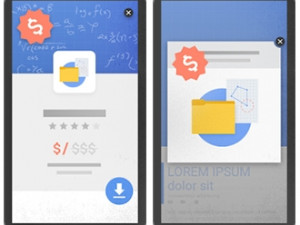 Google will soon rank sites that have large pop-up adverts lower in search results to make it easier for its users to access content on mobile.
The search engine giant already ranks results based on how mobile-friendly the site is, but is now going a step further and will, from 10 January, penalise sites with intrusive interstitials - adverts that appear while a page is downloading.
Doantam Phan, Google product manager, says in a blog post this type of advert "frustrates users because they are unable to easily access the content they were expecting when they tapped on the search result".
"Pages that show intrusive interstitials provide a poorer experience to users than other pages where content is immediately accessible. This can be problematic on mobile devices where screens are often smaller," he says.
Sites showing a pop-up that covers the main content (either as users open the page or while reading), displaying a standalone interstitial that the user has to dismiss, or having an advert in the above-the-fold portion of a page (making users have to scroll to get to the main content), will all be ranked lower next year.
Google says there are some ways businesses can place interstitials "responsibly", which will not affect their search rank.
These include pop-ups that appear in response to a legal obligation (such as for cookie usage or for age verification), login details for content that is behind a paywall, and banner adverts that do not take up a large amount of space and are easily dismissible.
Twitter targets businesses
In another social media update this week, Twitter added a button that enables people to start a direct message (DM) from a Web site.
DMs are the private side of Twitter, and the message button makes it easy to start a private conversation with businesses, instead of e-mailing or phoning.
The Twitter account will have to be set up to receive DMs from anyone, whether or not they are followers.
Facebook made a similar play earlier this year when it launched its chatbots in Messenger. The company hoped simulating one-on-one conversations between users and companies would expand its reach in customer service and enterprise transactions.
The Twitter button on Web sites could have a related effect, but would require real humans to watch and reply to DMs.