Android starts to tip Apple's scale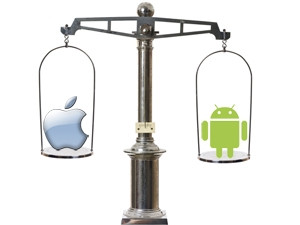 While Apple has been able to maintain its lead in the tablet market, the latest research from ABI suggests the scale is beginning to tip towards Android.
ABI says while Apple's iPad has swatted off competition by delivering a quality experience at a premium price, research shows Android is set to overtake iOS.
Senior practice director at ABI, Jeff Orr, says it's inevitable that Android tablets will overtake iOS-powered slates. "Though, we see no single vendor challenging Apple's dominance anytime soon. With media tablets commercially available for more than four years, momentum is shifting toward value and affordability, putting tablets in more of the population's reach."
According to ABI, China is the big variable for Android as it remains committed to the Apple brand and has the ability to afford the devices. It adds that smaller, seven-inch Android tablets have gained popularity, as well as cheaper devices falling into the sub-$200 bracket.
The latest research by the International Data Corporation (IDC) backs this up, stating that in 2013, the worldwide average selling price for tablets is expected to decline -10.8%, to $381.
It also predicts a major shift in the tablet market around screen sizes. It adds that, in the space of two quarters, the sub-8-inch category exploded to overtake the larger-sized segment in terms of total shipments.
Even Apple's figures suggest there's a shift towards smaller devices, with the 7.9-inch iPad Mini putting a dent in sales and profit of the larger iPad. ABI Research estimates the iPad Mini represented 49% of units and 39% of total iPad revenue in the first quarter of 2013. "Expect iPad Minis to become the predominant iPad model after the June quarter," adds Orr.
Losing the bite
Despite iPad still maintaining its stronghold in the tablet market, analysts have predicted Apple might see its first year-on-year decline in shipments of the device in the second quarter of 2013.
Apple Insider this week revealed information it obtained from a note to investors by KGI analyst Ming-Chi Kuo. Kuo predicted overall iPad shipments would decline between 20% and 25% quarter-to-quarter, or 10% to 15% year-on-year, for the second quarter of 2013.
According to a study by the IDC, iPad's share of the worldwide tablet market declined to 40% during the first quarter of 2013.
The IDC also predicts Android will increase its market share to 48.8%, in 2013, compared to 41.5% the previous year. Apple's iOS is expected to decrease from 51% to 46%.
Not worried
Speaking during an interview at the All Things Digital conference, in California last week, Apple CEO Tim Cook said the company keeps a close eye on its strongest operating system competitor - Android. "Do I look at it? Of course. I don't have my head stuck in the sand."
He added that Apple's success is not in the figures, but rather in the quality of its products, and that while Android might make the most music players and tablets, it doesn't make the most phones.
"What the numbers suggest over and over again is that people are using our products more. That's what we are all about. We want to enrich people's lives," said Cook.

He added that some tablets were being bought and not used, because the experience is not great.