The most popular Web browsers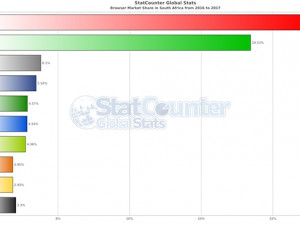 Opera Web browser system has steadily been holding the number one position as the dominant browser system in SA. This is according to the research arm of StatCounter, the independent Web analytics company that reports usage statistics of browsers and other related statistics based on raw page views.
The Web browser, which was developed by Opera Software, has seen a steady increase from 27.29% in 2015, 36.31% in 2016 and 36.13% in 2017, all for the period March to March for the set years. Last year the company introduced a new version of its desktop computer browser that was said to load Web pages faster by incorporating ad-blocking, a move that makes reining in advertising a basic feature instead of an afterthought.
According to the raw statistics, Google Chrome is steady in the second position, wavering between 24.68% in March 2015 and 29.53% in March 2017.
BlackBerry OS's fall from grace in previous years saw its browser market share take a sharp dip from 9.5% in 2015 to 6.04% in 2016 and 4.57% this year ending in March. This placed the OS in fifth place in a comparison of the top nine Web browser systems in the country. In March 2016, social network Facebook made a decision that it will no longer be available to BlackBerry owners. Saying at the time: "It costs a lot of money to maintain development for older phone models and BlackBerry is notoriously hard to develop apps for."
Apple's Safari Web browser, however, has benefited greatly from the lowering popularity of the Blackberry device, steadily growing from fifth most popular in SA to a comfortable third place. Safari now holds 6.1% of the market share. Similarly, Samsung's Internet browser that is available for all Samsung devices was placed as the fourth most popular browser, making up 5.56% of the market share.
Despite a turbulent 2016, Samsung has reportedly continued to top the annual global rankings regardless of the discontinuation of Galaxy Note 7. Android which also work on Samsung devices, was reported to have 4.36% of the market share in the country.
Internet Explorer (IE) unfortunately was usurped by new browsers and operating systems despite being one of the most widely used Web browsers attaining a peak of about 95% usage share worldwide during 2002 and 2003. IE was placed at sixth place in SA at 4.54% and saw an even less figure throughout Africa, only accounting for 3.45% of the browser market share.
Free and open-source Web browser Firefox, which is available for download on Windows, macOS, Linux operating systems and Android, dropped from accounting for 5.32% share of the market in 2015 to less than 3% in 2017.