Sxuirrel eyes African expansion after growth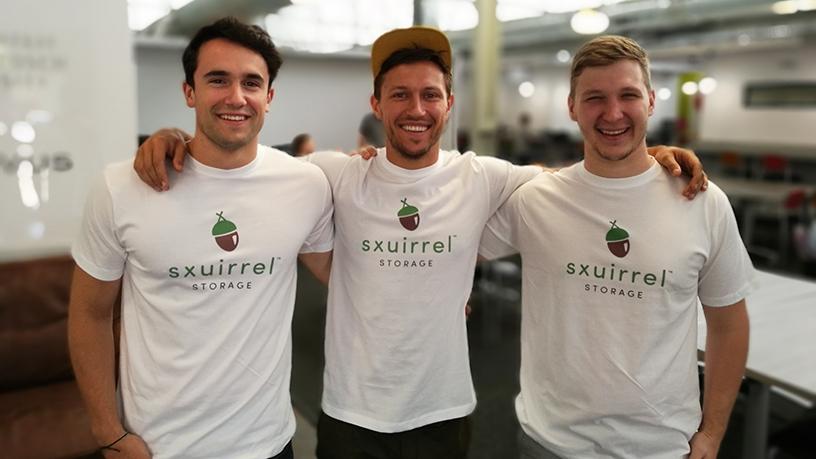 Stellenbosch-based storage start-up Sxuirrel is looking to expand to East Africa after recording growth to 1 400 active users on its platform, 18 months since inception.
The Web-based and mobile app launched last April and connects storage seekers with homeowners who have additional space such as an unused parking spot or a variety of different venue types.
Hosts can list available storage space on the platform, and storage seekers can search for their preferred storage solution to find space to store belongings such as furniture and equipment.
Sxuirrel is the brainchild of former Stellenbosch University students: CEO Michael-John Dippenaar, COO Henri Bam and CTO Michael Louis. The start-up initially began as a way of helping fellow students to find available storage space, and has rapidly expanded to cater for users across major South African cities.
The company says there is a growing need for storage space globally, and its rapid growth in app downloads and listings is a reflection of a global market trend.
"Sxuirrel currently has 259 listings on the platform and we are looking at expanding to African countries soon. We're in discussions with partners in East Africa to expand by 2019. Our main focus will be to build initial supply before opening the platform transitionally," explains Dippenaar.
"Space is a global problem and we are developing a world-class platform that will appeal to a global market. One of our goals is to be 100% hands-on when expanding into a new area to ensure we create enough traction to boost both supply and demand from the start."
According to Bloomberg, the self-storage market has seen 7.7% annual growth since 2012, with the industry making $32.7 billion in 2016, nearly three times Hollywood's box office gross.
Urbanisation is promoting the consistent trend of relocation, and newly built apartments and residence rooms are getting smaller every year, notes Dippenaar.
"The traditional storage solutions at our disposal are becoming outdated; providing an opportunity ripe for disruption in the storage market."
Sxuirrel allows users to search listings based on location, after which results can be filtered according to price, size and additional features.
Community network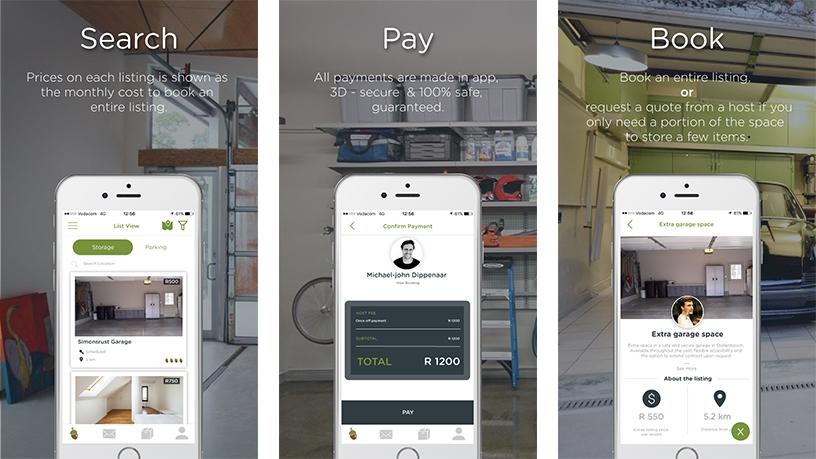 The platform, available on iOS and Android, is taking on local rivals such as Prestige Storage, YourStorage, Stor-age and Mega Storage, among others.
Dippenaar maintains Sxuirrel's distinguishing factor is that it is a peer-to-peer network, connecting communities across the country to find storage space.
Allowing hosts to list their storage, parking or venue space enables them to make extra money, with Sxuirrel only taking a small percentage-based commission on transactions, he adds.
"Other self-storage companies have a traditional approach and rent out storage space in a warehouse or building. By connecting storage seekers with homeowners, we also empower a community to better share space, and turn idle assets into money-generating assets.
"We also have parking and venue space on our platform; not only storage space, but a complete space-finding platform. No other app is addressing the entire spectrum of space and storage needs."
Humble beginnings
To help establish Sxuirrel as a viable business, the founders won a cash prize of R20 000 as well as incubation office space and mentorship from LaunchLab's Ideas Programme, an innovation challenge which took place early last year.
In December, the company secured R2.4 million in funding from logistics and transport firm Xtra-Space Group, which it injected into further development of its platform.
Dippenaar says over the next 12 months, the company will be working on making continual improvements to the app's key features; notably to the listing and booking processes as well as adding a referral system.
"While Sxuirrel is still new to the market, we are constantly enhancing the app with new features. The Sxuirrel Web site has, in the meantime, undergone extensive improvements and updates that were rolled out this week. The app's map and search functions have been improved and the team has implemented the use of Imgix software to allow for multiple photos, smart cropping, and faster uploading and downloading."
Discussing safety features, Dippenaar points out the app has a built-in peer-to-peer review system and all payments are done through the 3D-Secure platform.
"All users on the Sxuirrel platform are vetted, OTP verified and e-mail verified. Each listing created is verified by the sales team.
"Alongside extensive safety measures to ensure an uncompromised user experience, the Sxuirrel team constantly monitors activity on the app and we also supply users with the Sxuirrel guarantee, paying up to R100 000 if something occurs that causes damage to belongings stored through the Sxuirrel platform," he concludes.