Mercedes remakes 90s ad with autonomous tech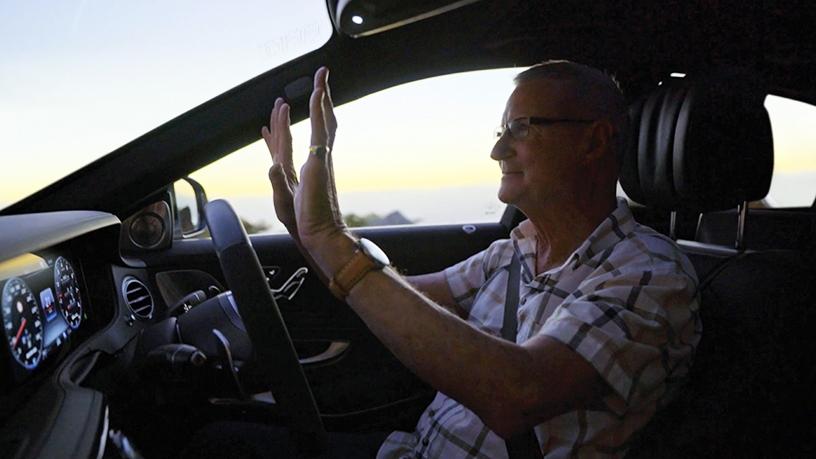 German motoring company Mercedes-Benz has returned to Chapman's Peak in Cape Town, 30 years later, to get the survivor of the infamous accident to test out its autonomous driving features in the new Mercedes-Benz S-Class.
Christopher White, who survived a 30-storey tumble off the edge of the cliff in 1988, said at the time that the reason he survived was because he was wearing his seat belt and driving a Mercedes-Benz. The motoring company capitalised on this statement and went on to recreate the crash in a TV advert two years later.
Now, in 2018, White was tasked with driving along the same road, but told not to hold the wheel as the car would keep him on the road.
This was successfully done using new autonomous vehicle technology, called driving assistance systems, incorporated into the new Mercedes-Benz vehicles. These functions were first introduced in the E-Class in 2016 and further refined for the S-Class this year.
Mercedes-Benz says the car used Active Steering Assist during most of the trial at Chapman's Peak. It works by providing additional steering torque to help the driver keep the vehicle in the centre of the lane on straight stretches of road or slight bends.
"This assistance system bases its actions on the road markings on both sides at speeds up to 210km/h. If the markings are missing or unclear, as well as at speeds up to 130km/h, the system also uses vehicles travelling in front for orientation," says the company.
It said the route was not pre-programmed in any way, but the system incorporates the use of COMAND map-based data to determine route topography.
Other driving assistance features incorporated into the cars include active blind spot assistance and active emergency stop assist.
Selvin Govender, marketing director of Mercedes-Benz Cars SA, says: "Moving forward from 1990, from a time when autonomous vehicles couldn't have been imagined, to today, when the Mercedes-Benz S-Class is a reality, we needed to do the unimaginable.
"For White, Chapman's Peak was a place of horror. We asked him to revisit it, to drive it again, but this time to let our car drive him. His fear, his trepidation, his emotions are evident to start with. It's heart-wrenching. But then you see him relax. You see the wonder on his face. You see the future of driving."
Fully autonomous vehicle technology is still a while off. This year, there have been reports of accidents and pedestrian death from companies testing this technology in the US, such as Uber and Tesla.
This week, a Tesla Model S crashed into an unoccupied, parked police vehicle in California while the car was in Autopilot mode. In March, a self-driving Uber car hit and killed a woman crossing the street in Arizona.