Game development still niche in SA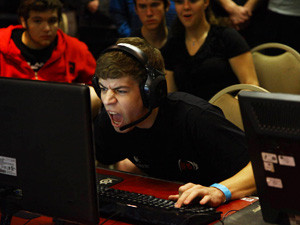 Less than 20 local indie game development companies showcased their wares at rAge this year. The stands of other international games and tech companies filled the TicketPro Dome in Johannesburg this past weekend.
Local indie game developers usually reserve a spot at the home_coded stand. The initiative was started by NAG magazine in 2012, to showcase the best in South African game development talent, and promote local growth in the industry.
According to rAge, the global video games market is worth almost $100 billion, with the MEA region contributing $23.5 billion to it.
However, the local community remains fairly small and while students can study game development here, they often find it hard to find a job in the industry once they have graduated.
ITWeb spoke to three developers from three different home_coded stands to find out why.
Matthew Dalton started game development company Mattador Starfish last year after he quit his full-time job. He says the industry in SA is still growing and is not strong yet: "It is very indie with no big corporate support.
"I would love to see game dev be recognised as a legitimate career here but finding a job after studying is really hard, and people often end up in other computer science sectors."
Codex Knights is the first game to come out of the company and aims to help promote reading in school children. It's a 3D action-RPG/puzzler which requires players to read a book to progress to the next stage. The idea is that the player will read the entire book without realising it while playing the game. The first book in the game is the South African "Jock of the Bushveld".
Dalton says it took a lot for him to quit his job and focus only on games, but the drive to make a difference in education was too strong.
He says Codex Knights is a case study in how gamification can be used in education: "I truly believe gamification can change the world and especially education. Innovation has happened in all industries over the last 100 years, except education; the way we learn hasn't changed at all."
He says there is a gap in the market to use games to make children really excited to learn.
Codex Knights is not yet commercially available. Dalton says a crowd-funding campaign will be launched later this year, during which backers will have a say in what new books will be added to the game.
Another exhibitor, Givit Game Studios, officially launched its first commercial release at rAge, titled The Adventures of Sam Carlisle: The Hunt for the Lost Treasure.
The game raises awareness of Alzheimer's disease. The main character has it and as the game progresses, he can't distinguish between reality and fiction.
Gustav van Rooyen, lead developer for Givit Games Studio, says he has learnt a lot about the disease through developing the game and will donate a portion of the revenue to a local charity to help sufferers.
Van Rooyen developed the game over the last two years in his room in the East Rand while he was working a full-time job.
He says this is a common problem in SA: game developers do not want to leave their jobs to work on a game as he thinks game development is not yet recognised as an official occupation here.
However, he says, the games developed here are already on the level of other games that come out of markets like the US.
"They are all indie games, and you can tell, but indie games are personal and anyone can relate to them."
Van Rooyen says there is a big difference between playing and developing, and developing games can teach people how to become better at coding and interacting with software.
Celestial Games, a larger South African game dev firm, showcased a "live game development" at its home_coded stand.
Co-founder Travis Bulford says the company has been around since the nineties. It released its first game, Toxic Bunny, in 1996 and it did really well, selling 150 000 units worldwide; however, its second game a few years later did not do so well. The company had to shut down, but reopened in 2010.
Bulford says it is important for people to get into game development and for there to be an industry which will support them because of all the potential money that could come into South Africa.
The market is huge, as was clearly demonstrated by the thousands of people of all ages who flocked to the rAge venue to see and purchase new games.
"We need more businesses interested in the industry; investors with business knowledge and overseas contacts."
Bulford says the game development industry is small in South Africa, so the companies compete for the best talent and not everyone ends up getting a job.
He says this means developers have to be tenacious and willing to constantly learn.