Online users over-share info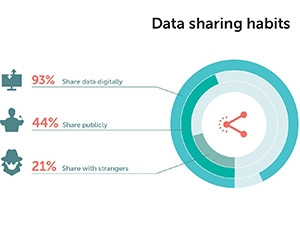 The majority (93%) of online users share their information digitally, with 70% sharing photos and videos of their children and 45% sharing private information belonging to a third party.
This is according to the Kaspersky Lab report, "Stranger danger: the connection between sharing online and losing the data we love".
The research looks into the amount of data people share on the public domain. It found that although sharing information or photos on social media platforms like Facebook and Instagram has become second nature for many, the majority of people share sensitive personal information with people they barely know, opening themselves up to many risks including identity theft and financial attacks.
The risks significantly increase with young people aged between 16 and 24, adds Kaspersky.
The study is based on insight gained from an online survey conducted by research firm Toluna and Kaspersky Lab in January 2017. The survey assessed the attitudes of 16 250 online users aged 16 years and older, from 17 countries. Data was weighted to be globally representative and consistent, split equally between men and women.
"Almost half (44%) of Internet users globally make their information public, but once data has gone into the public domain, it can travel far beyond the control of its owners. One in five people admit they share sensitive data with people they don't know well, and with strangers, limiting their ability to control how their sensitive information will be used. Thus, people are exposing themselves to identity theft or financial attacks by sharing financial and payment details (37%), scans of their passports, driving licences and other personal documents (41%) or passwords (30%)," reveals the report.
The research further shows 10% of respondents have shared the PIN for accessing their mobile device with a stranger and 22% have left their devices unlocked and unsupervised among a group of people.
Andrei Mochola, head of consumer business at Kaspersky Lab, says:"In today's online world, sharing information with others has never been easier and, in many ways, that's what the Internet was created for. But by disclosing important and sensitive information with other people at the push of a button, you relinquish control over it, because you can't be sure where that data is going, and how it will be used. Users are literally putting their precious data, and even the devices that store it, in the hands of others."
Neil Cosser: identity and data protection manager for Africa at Gemalto, says although it can be challenging in today's hyper-connected society to not share personal data, users need to be cautious about how much they share and with whom.
"By over-sharing personal information, people are making themselves more prone to phishing attacks. All the information you distribute online can be used to develop profiles that show who you know, where you work and the types of activities you enjoy.
"According to Gemalto's Data Breaches and Customer Loyalty report (2016), just over one-fifth (21%) of respondents who use social media accounts say that they use two-factor authentication to secure all of their social media accounts, while half (50%) report they do not use it for any. This means that since most people don't use two-factor authentication, the chances are increased that they will rely on fairly standard security questions to reset a password," concludes Cosser.