KLM bot comes to Messenger app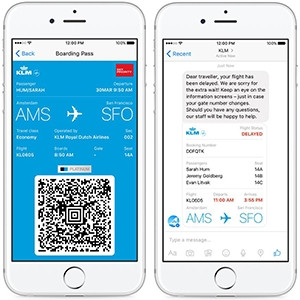 Facebook's separate messaging app, Messenger, can now be used by KLM Royal Dutch Airlines passengers to check-in, get boarding passes and change flight details.
When booking a KLM flight on the airline's Web site, an option will appear asking if the passenger would like to receive updates about the trip via Messenger. If yes, the passenger will be prompted to download the KLM Messenger plugin and the first message received will contain the booking confirmation.
The KLM bot collates all flight information in one place, including the traveller's itinerary and boarding pass. Passengers are able to ask the bot to change their seating position, or book a special dietary option.
Passengers will be prompted, within Messenger, when online check-in opens and receive flight status updates. These messages will appear on the user's smartphone as a push notification if they are not within the app.
David Marcus, Messenger lead at Facebook, believes this will remove stress and complication from air travel as all communication with the airline will appear in one contextual, canonical thread.
"Goodbye forgetting the combination of your frequent flyer alphanumerical number and password to obtain your boarding pass, and holding for a long time on the phone to change flights," Marcus said in a Facebook post.
The feature started rolling out yesterday and will be available in the coming weeks in all the countries KLM operates.
More than social media
Arthur Goldstuck, World Wide Worx MD, says the KLM and Messenger partnership is an example of social media companies integrating the networks into users' everyday activities.
"Already, Google search and cards will alert travellers to flight status based on the booking confirmation having been received via Gmail," says Goldstuck. "It's a small step to checking in via the same interface; the only surprise is that Facebook got there before Google."
He says although Facebook does want to keep users within its environment, it is also about users themselves wanting such functionality. "There's nothing sinister about giving users what they want, or making their lives easier."
Facebook has been aggressively working to boost the appeal of its Messenger service, including making it mandatory in 2014 for users to install a separate app to send and receive messages.
The mobile messaging service now has over 600 million users globally.
Goldstuck says there are 13 million Facebook users in South Africa, of which 10 million use the social network through a mobile device. He says a high percentage of the 10 million will have downloaded the separate Messenger app.
Since 2014, Facebook has beefed up the app's features and services. It introduced payment integration, video calling, and started testing a personal assistant.
In December, Facebook started testing a service that would allow Messenger app users in the US to hail Uber rides directly from the app, without leaving a conversation or downloading the ride-hailing app.
Trust issues
Despite online check-in through airline Web sites being an option for passengers for years, long queues at airport check-in counters are still a common sight. "Because many people travel only occasionally, they are not aware of what awaits them at the airport if they don't check in ahead of time," says Goldstuck.
The long lines can be: "A function of how clueless people are in preparing for travel ? akin to arriving at security and starting to unpack numerous metal items from one's pockets, or arriving at the boarding gate without identification readily to hand," says Goldstuck.
However, he says many people do not trust online processes involving transactions, including checking-in online.
Although, "In some cases, the method of booking or the routing don't allow for online check-in, but that is a failing of travel systems, proving the airlines don't have all the answers," says Goldstuck.