Local VC firm opts for global view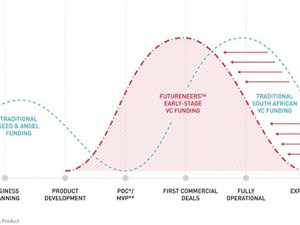 A group of South African entrepreneurs today announced a new venture capital (VC) company that invests in start-ups earlier than traditional local VC funders, helps them at each stage of development, and aims to scale them for international markets.
Called Futureneers, the group chairman is Johannes Booysen, who founded Yonder Media (acquired by WPP's Group M in 2015), the B-One Group (currently owned by Steinhoff Group) and Hot Dog Caf'e Group. The CFO is Jaco Gerber, an ex-PricewaterhouseCoopers partner, and the CEO is Deon Lewis, Cipla Nutrition co-founder.
The company says traditionally, South African start-ups receive funding from early angel investors at concept research stage and then have a gap in funding until proof of concept. Futureneers aims to fill that gap and provide an additional injection of capital and experience from the product development phase to help start-ups achieve recurring revenue generation.
It also hopes to capitalise on the rise of emerging-market technologies, which are usually born out of necessity, but find resonance in more established markets.
"The start-up space, and especially the technology sector, has always been an exciting place to be," says Booysen. "But today, more than ever ? provided the risks are mitigated ? it offers incredible returns. For us, the objective is simple: finding, nurturing and guiding the next Roelof Botha or Elon Musk, then introducing them to our influencer and funding networks around the world.
"With our 'start-up machine', international footprint and strategy, South African entrepreneurs and investors can experience what we believe is 'real VC' for the first time ? financial support for early start-ups, professional services, and guaranteed access to a global ecosystem, along with all of the opportunities that this provides."
The company has a board of 'futureneers' which will help mentor the selected start-ups. The advisory board includes Los Angeles-based Brent Cohen, Gustav Praekelt, Martin Venter, and Derek White.
The company says it has partnerships in the US, UK, India, China, Australia and Israel, which will provide a "global bridge' for South African start-ups.
Once in the programme, start-ups have access to an agency to help create a brand presence, a marketing team for strategy, sales assistance, project management, financial and legal services, and back-office administration.
To apply to be a part of the first Futureneers programme, which starts in January, start-ups need to fill out a form here.