Yoco simplifies small business payments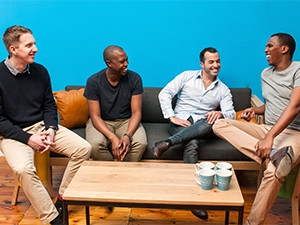 Yoco officially launched its integrated card payment and mobile point-of-sale solution for SMEs in Cape Town last night.
The event follows a successful beta programme, which began last year and saw the start-up's solution being used by over 500 merchants.
The concept, which transforms any Android or iOS tablet or smartphone into a card acceptance terminal, is the brainchild of Katlego Maphai, Carl Wazen, Bradley Wattrus and Lungisa Matshoba.
During the beta programme, $3 million worth of transactions were processed and the platform currently processes over $1 million each month. A total of 170 000 transactions were processed using the platform during the period.
Maphai, Yoco MD, outlined that small business owners simply do not have the capital and resources to accept card payments in the same way as bigger retailers, which is why Yoco wanted to create something that addresses this payments acceptance gap.
"The beta programme was important and our roll-out was very measured because we wanted to gauge how well the product was working in the hands of our merchants. While also understanding how best to support these merchants using data analytics and trying to figure out the unit economics of mobile point-of-sale."
Accepting money should be simple, stressed Wazen, Yoco's commercial director. Smartphones already contain a lot of the components that make card machines so expensive and the Yoco team simply decided to use these mobile resources to their advantage.
But this is just the tip of the iceberg, Wazen continued. What small businesses really need is a holistic mobile payments platform that allows them to accept payments and also manage their business.
In developing this platform, Yoco set out to solve the issue of access, said Matshoba, technology and product director. "When we looked at how to solve challenges around access, it all came down to the cost of servicing the customer."
We want our customers to be able to do everything themselves and this meant building something from the ground up, designed specifically to meet the needs of our local clients, he went on to say.
Typically, gaining access to card acceptance solutions was a bureaucratic and lengthy process, added Wattrus, financial director. Signing up to Yoco had to be quick and easy, he outlined, noting the fastest signup for the solution so far is a single day.
The Yoco offering includes a free point-of-sale app, which allows businesses to track card and cash payments and better manage sales and staff. In addition, the Yoco Business Portal is a free business intelligence tool, which enables businesses to keep tabs on transactions, administration and overall business performance.
Not only has this level of exposure added value to Yoco's merchant clients because they are able to track business activities in real-time, but it also allows us to keep an eye on how our devices are operating and whether things are going wrong, explained Maphai.
"We're basically an SME for SMEs. We want to make it easier for businesses to do business. Being the first pure merchant aggregation acquirer in the country, I think that we are really pushing the envelope here."