Qualcomm test shows 5G far outpaces LTE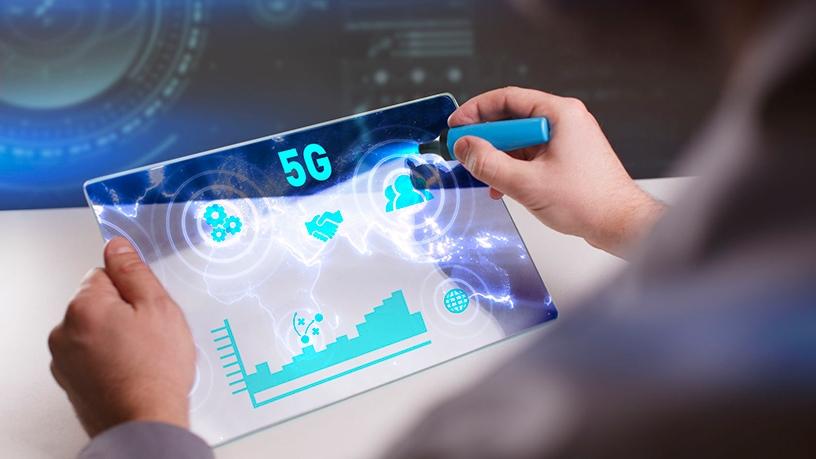 Qualcomm showcased key findings from an extensive 5G network simulation, which the company conducted over the last few months, at Mobile World Congress (MWC) in Barcelona, last week.
The simulation was intended to demonstrate the potential of 5G as the industry prepares for the first wave of devices and networks in the first half of next year.
"There is a lot of interest from various stakeholders in the mobile ecosystem - cloud platform providers, application developers, device OEMs [original equipment manufacturers], and others - in understanding the real-world performance that 5G NR mobile networks and devices will deliver," says Alex Holcman, Qualcomm senior VP of engineering.
"We undertook this comprehensive study to help the ecosystem prepare for the foray into 5G, so that application developers, for example, can begin planning new experiences and services for users with 5G devices."
Two separate sets of simulations were conducted. The first modelled a NSA (non-standalone) 5G NR network in Frankfurt, Germany, operating on 100MHz of 3.5GHz spectrum, with an underlying Gigabit LTE network operating across five LTE spectrum bands.
The second simulation modelled a hypothetical NSA 5G NR network in San Francisco, US, operating in 800MHz of 28GHz mmWave spectrum, with an underlying Gigabit LTE network operating across four licensed LTE spectrum bands plus Licence Assisted Access bands.
Qualcomm says the simulation utilised existing base station locations with the 5G NR cell sites co-located with existing LTE cell sites. Around 14 000 user devices, of various capabilities, were randomly distributed across the network with approximately 50% of the users indoor and 50% of the users outdoor.
The Frankfurt simulation showcased a downlink capacity increase of up to five times when migrating from an LTE-only network, with a mix of LTE devices of various capabilities, to a 5G NR network with multi-mode 5G NR devices and an increased mix of advanced Gigabit LTE devices.
This simulation also yielded compelling evidence of the benefits of Massive MIMO technology, with median spectral efficiency increase of up to four times on 3.5GHz spectrum.
The simulation showed that, when compared to LTE-enabled devices, 5G NR capable smartphones and objects will browse the Internet nearly 900% faster - from 56Mbps to 490Mbps.
5G devices will also have reduced latency from 116ms to 17ms, meaning Web sites will be seven times faster in their response. The test also found 5G allows users to stream videos of a much higher quality, increasing from 2K/30 FPS/8-bit colour for LTE users to 8K/120 FPS/10-bit colour and beyond.
Another observation was that 90% of 5G users will have download speeds of 100Mbps, compared to the up to 8Mbps speeds that the majority of LTE users have.
The San Francisco simulation provided a real world example of how 800MHz of additional mmWave spectrum could work in a densely populated area.
Millimetre-wave spectrum (mmWave spectrum), is the very high range of spectrum and behaves differently to lower spectrum as it offers larger bandwidth but does not travel very far.
In an interview with Vodafone CTO Johan Wibergh last week, he told ITWeb: "Millimetre-wave technology is very difficult to propagate. If you take a normal mobile network, the signal could go through leaves, a window... The problem is mmWave doesn't do this which makes it complicated, expensive and tricky to build out.
"I do believe there will be limited usage in mobile networks in the coming years, given its high speeds but it is complex and costly to get out," he said.
The Qualcomm simulation found browsing download speeds increased from 71Mbps for the median 4G user to 1.4Gbps for the median 5G user in mmWave coverage, which represents a gain of approximately 2 000%.
It found these 5G users to have 23 times faster responsiveness, and the median browsing download latency was reduced from 115ms to 4.9ms. Ninety percent of 5G users in mmWave coverage will reach download speeds of more than 186Mbps.
"The results from the 5G network capacity simulation lend credence to the promise of 5G, with expected real-world performance that is substantially better than what is currently possible with 4G across multiple metrics.
"The findings also illustrate that these emerging 5G networks will have the capacity and performance to support a whole host of new services and experiences beyond the traditional categories of browsing, downloading and streaming," Qualcomm says in a statement.
The company says there are 18 global operators and 20 device-makers that have selected the Qualcomm Snapdragon X50 5G modem for their first wave of 5G network trials and consumer devices in the first half of 2019.
It is not clear if South Africa will receive the devices; however, even if it does, users would not experience these speeds until local operators have built up a 5G network foundation.