Non-profit intends to kit 67 schools with computers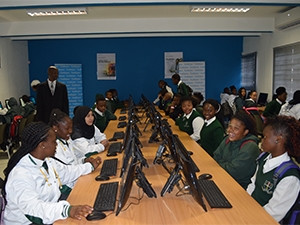 SA Consulting's Melisizwe Computer Lab Project hopes to equip 67 underprivileged schools with computer labs over the next year.
The project was started in 2012 and aims to spread access to digital technology by providing a place where the subjects computer applications technology and information technology can be taught.
In this time, it supplied eight schools in Gauteng with between 40 and 45 computers each, as well as security for the room they are kept in. These institutions include Chris Jan Botha Senior Secondary School in Bosmont, Sgodiphola Senior Secondary School in Cosmo City and Namedi Senior Secondary School in Soweto.
The goal of 67 schools is meant to coincide with Mandela Day celebrations next month. The non-profit wants companies to consider sponsoring a school as part of their corporate social responsibility efforts.
Four schools have already been sponsored and the first lab will be handed over on Friday, 30 June to launch the campaign.
The organisation hopes to reach schools beyond the province and go into more rural areas.
Last year, when the lab was installed in Namedi Senior Secondary School, Zanele Ndotshayisa, one of the project directors, said there were learners who had never interacted with a computer.
"It's ironic because they live in the middle of a bustling technology-focused city. Imagine what it must be like in places further from Johannesburg."
SA Consulting works closely with the Department of Basic Education to select schools. A list of qualifying schools is provided and then interviews with the principals are conducted to determine needs.
"We also request the schools to provide motivation letters as to why they should be awarded the computer lab. We do this to ensure we have buy-in from them," says Ndotshayisa.
The organisation eventually hopes to extend the project to include WiFi installation in the schools.
Ndotshayisa says: "In the age of digital technology, learners in underprivileged and indigent schools are still finding it hard to access computer learning. They have access to cellphones and free WiFi in some spaces and places but they still don't have access to a computer.
"What's more is that computer learning lags far behind the list of priorities for these schools, as food schemes, desks and sanitation take centre stage along with basic education.
"This ultimately means schools are focusing on meeting the basic needs of learners with the resources they have before they can even consider giving them access to something like a computer. Unfortunately, this does the learner a great injustice as it is this that stands between them being employable or not."
To sponsor a school or donate computers, companies can e-mail admin@melisizwe.co.za or call (011) 321-0195.