Huawei targets Apple, Samsung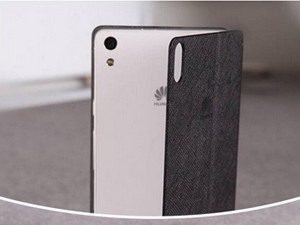 Chinese manufacturer Huawei will ready itself to take on smartphone market leaders Samsung and Apple when it showcases the Ascend P6 today.
The launch, taking place in London, instead of its home market in Asia, is seen as an attempt to increase the company's presence in the Western and developed markets.
Huawei has been punting the unveiling of its new device on social media, with spokesperson Roland Sladek telling AFP the Ascend P6 is well designed and one of the thinnest smartphones in the world.
"It's certainly competing with Apple, but beyond that it's really looking for an audience who look for a piece of modern fashion," he told the news agency.
The Chinese manufacturer also leaked some teaser images of the P6 on its Twitter page in the run-up to the official unveiling.
Specifications for the Ascend P6 also made their way onto the Web, after a reader sent internal documents to GSMArena last week. The device weighs just 120g and has a 4.7-inch display.
It is powered by a quad-core 1.5GHz K3V2+ Huawei chipset, with 1.5GHz quad-core CPU and run on Android 4.2 Jelly Bean. The Ascend P6 will have an 8MP camera, with 8GB of expandable internal storage and 2GB of RAM.
Gaining ground
The Chinese manufacturer has managed to hold its own in the highly competitive smartphone market by offering devices at the lower end of the scale.
Fuseware CEO Mike Wronski says a couple of years ago the Huawei brand was virtually non-existent in the consumer world.
"Lately, it has been the rising star of the smartphone world. Its impressive net profit increase of 33% year-on-year for 2012, combined with its innovative new product development approach, might see this brand really soar in the years to come," he adds.
According to the International Data Corporation (IDC), Huawei held the fourth place among smartphone vendors in the first quarter of 2013, shipping almost 10 million devices and securing 4.6% of the market share.
In the first quarter of 2013, Huawei managed to nearly double its unit shipments to regions outside of Asia/Pacific, compared to the same period last year, securing its place in the top five.
Research manager for IDC's mobile phone team, Ramon Llamas, says: "The fact that Huawei and ZTE now find themselves among the top five smartphone vendors marks a significant shift for the global market.
"Both companies have grown volumes by focusing on the mass market, but in recent quarters they have turned their attention toward higher-end devices. In addition, both companies have pushed the envelope in terms of industrial design with larger displays and smaller form factors, as well as innovative applications and experiences," he adds.
Wronski says Huawei is highlighting an interesting shift in the smartphone market. "Huawei is entering the high-end market with this new phone, while high-end manufacturers are attempting to enter emerging and low-end markets. These companies are all diversifying their product lines in order to capture as much global brand awareness as possible."
He says the US has, however, seen Chinese Huawei technology as a potential threat. "In light of the recent NSA surveillance program leak, it will be interesting to see how the US reacts to Huawei imports if Huawei becomes a dominant player in that region."
Tough competition
While Huawei might be making inroads into the smartphone market, Samsung is still the leader in terms of market share, with 32.7% in the first quarter of 2013 followed by Apple taking 17.3% of the smartphone market.
Last week, reports surfaced that Apple will release its much anticipated budget iPhone later this year, with the iPhone 6 expected to make its appearance next year.

Meanwhile, Samsung's new flagship Galaxy S4 sold more than 10 million devices in less than a month after it was released globally.