Lightbulbs' farming solution wins GirlCodeHack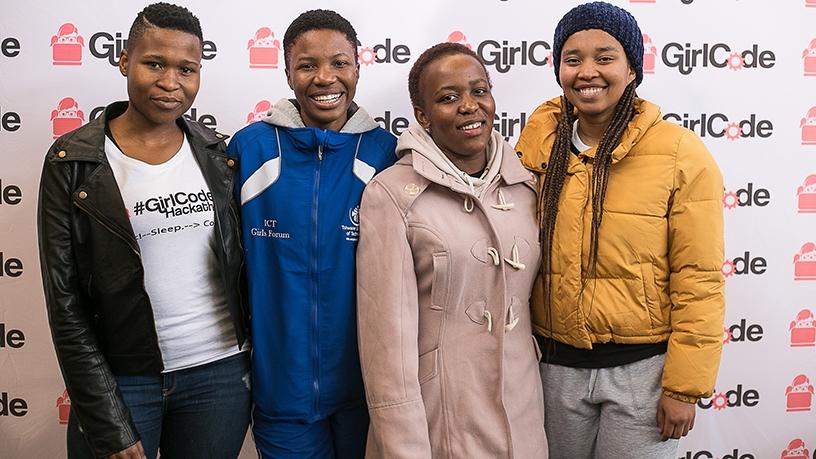 Lightbulbs, a Johannesburg-based all-girl team, was named the overall winner of the 5th annual GirlCodeHack, for its agricultural data analysis solution.
Organised by GirlCode, a social enterprise that aims to empower young girls and women through technology, GirlCodeHack is an annual hackathon aimed at providing young girls who are eager to join the ICT industry with an opportunity to develop the vital skills they need to pursue a career in the field.
This year's event took place in Johannesburg, Cape Town and Durban, and hosted more than 140 girls across the regions.
The winning solution was the brainchild of four tertiary students: Tiisetso Modubu (24), Neliswa Khumalo (24), Lerato Tsotetsi (22) and Rochelle Makhubela (20). The data accumulation application comprises integrated Internet of things (IoT) devices that assess the condition of the soil on a farm. The results are then shown on a Web-based platform, where the farmer can determine the course of action.
Changing lives
Speaking at the opening of the Johannesburg event, deputy minister of Telecommunications and Postal Services, Stella Ndabeni-Abrahams, said: "We need to work together to take advantage of the digital revolution. No country is better placed than when it includes its women. Women are natural born teachers and leaders.
"I want SA to be a place where we are able to use the technologies we are exposed to, to take advantage of the digital revolution. Working together, as sisters across provinces, we can improvise solutions that will help change the lives of people around us. Because, when you educate a woman, you educate a nation."
The competition required the teams to build solutions that contribute to the UN Sustainable Development Goals, using technology.
Global opportunity
As winners of the hackathon, Lightbulbs will head to the Women in Tech conference, in Amsterdam, from 28 to 29 November. The conference is Europe's centrepiece for women in technology and will see more than 3 000 leaders and professionals come together, to hear from some of the best speakers in the industry. The winners will also receive a Microsoft Technology Associate Certification Course, which will be sponsored by learning development company, LGIT Smart Solutions.
"We are ecstatic about being the overall winners, especially because this was our first hackathon and we never imagined we'd win such a big competition," says Makhubela.
"The Microsoft certification course will broaden our technical skills, especially in software development. It will also give us a better chance of becoming good entrepreneurs in the ICT field, as we are considering registering a start-up to further develop and implement our solution."
Lightbulbs used an Arduino board with a DHT temperature sensor for the soil. It also used the Node-RED programming tool,to connect the hardware devices and application programming interface to the online system, which the farmer can access to receive messages and view the condition of the soil, explains Makhubela.
The second prize winner was Scatterlings Of Africa, a Cape Town-based team that developed a Web-based platform that allows consumers to buy and donate locally produced food to help reduce hunger. The team was awarded an Amazon Echo, sponsored by Amazon Web Services.
Third prize went to Durban-based team, Self-Educat, which developed an Android app that provides girls in rural areas and townships with tutorials on various modules and study materials. This team received printers, sponsored by Boxfusion.
Corporate support
Clayton Naidoo, GM for Cisco SA, says: "Cisco believes in inspiring young women to pursue careers in STEM through exposure to the latest technology and engagement with industry professionals."
Zandile Keebine, co-founder of GirlCode, comments: "Thanks to our corporate partnerships this year, we have been able to reach more girls than before by taking this event to Cape Town and Durban, as well as Johannesburg. The growth in support we're experiencing from large technology companies is testament to the need for such events in the industry."