China's Ministry of Industry and Information Technology awards Avaya for cloud excellence
Avaya cloud solution wins China's Ministry of Industry and Commerce "Cloud China - 2016 - 2017 Annual Cloud Computing Excellent Solution Award".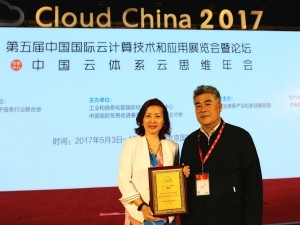 At the 5th China International Conference on Cloud Computing Technology and Applications (Cloud China 2017), Avaya won the "Cloud China - 2016-2017 Annual Cloud Computing Excellent Solution Award" for its Contact Centre as a Service (CCAAS) solution.
Cloud China 2017 recognises the achievements of players in the cloud industry in the country with the aim of creating and growing a new market for cloud computing solutions in China and abroad, as well as helping advance China into the Internet+ era. The event is sponsored by the Centre for International Economic and Technological Cooperation at the Ministry of Industry and Information Technology of the Peoples Republic of China. The award judges include representatives from the Ministry of Industry as well as other government departments including the National Information Expert Advisory Committee, the Chinese Academy of Sciences, and the Chinese Academy of Engineering.
According to a report by the International Trade Administration, China's cloud computing market is expected to grow by 40% annually, reaching approximately $20 billion by 2020.
In November 2016, Avaya and UCloud, China's largest independent public cloud provider, launched the award winning "A Cloud," which allows customers to deploy contact centre solutions in the cloud rapidly and cost-effectively. This solution helps businesses align their customer experience transformation to China's "Internet+" era.
While traditional contact centre environments require high up-front capital investment and complex structure deployment, CCaaS solutions can be built and deployed quickly to manage and optimize existing infrastructures. "A Cloud" is able to help customers migrate their locally deployed contact centres to the cloud via private or hybrid cloud solutions. It can also provide customers with a managed and multi-tenant service model to meet customer demands. With the "A Cloud" solution, enterprises can reduce their one-time capital investment by 87% and continuous investment by 55%, as well as make payment on a utility model basis, for example, per user/per month, which will greatly reduce operation and management costs.
Avaya China has nine offices, two R&D centres and employs more than 400 Chinese technology professionals. With a rich history of serving the Chinese market, the company works with China's largest utility company, almost all of the country's state banks, and 80% of China's largest insurance players.
Chen Wei, General Manager of Avaya Greater China said:
"We are honoured and grateful to the Ministry of Industry and Information Technology and the expert jury for this strategic award. Our goal is to work with China's technology leaders to build solutions and services that help advance our country and its businesses towards the Internet+ era. In the Internet+ era, organisations of all sizes are facing the challenge of digital transformation. The one-stop cloud service provided by 'A Cloud' helps make it possible for enterprises to quickly deploy relevant businesses, keep pace with state-of-the-art contact centre technologies and seize market opportunities. We hope that more enterprises will be attracted to join Avaya's open and healthy ecosystem, share value on the cloud service platform and boost the upgrade and development of the whole industry."