Pushing the boundaries of instant messaging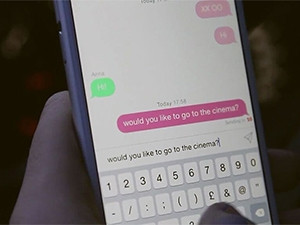 Two new instant messaging apps, Hiboo and Blindspot, demonstrate the extent to which messaging is changing to suit different needs ? from no privacy to complete anonymity.
On Saturday, Hiboo, a messaging app touted as tool that lets users communicate at the speed of thought, was launched worldwide. The instant messaging app takes fast communication to the next level by allowing users to see what other users type while they are still typing - eliminating the need for a send button.
From one extreme to the next, a messaging app launched last month, Blindspot, allows users to send completely anonymous text messages to each other. It has raised alarm among parents, politicians and some teenagers, who say it is being used as a weapon for cyber-bullying.
Loss of control
"You're glued to your screen. She's typing, but she's been typing for five minutes. Four words finally arrive. Ever been curious about what she didn't say? Hiboo puts an end to this frustration. You see everything that is sent through," the company said in a statement.
The idea was born during TechCrunch Disrupt Hackathon 2014 in London and a beta version was launched at Websummit last year. The Hiboo team comes from France, South Africa, Ukraine and Latvia.
Hiboo claims: "The 'real-time effect' adds a new dimension to messaging where the process of typing becomes the communication medium."
"We already live in an always-on instant world. This app takes out the thought process in messaging and will get people into a lot of trouble," says Arthur Goldstuck, MD of World Wide Worx.
Goldstuck says the concept of Hiboo "bugged" him when he first heard about the app.
"When one is messaging, they are composing and you don't want to send out a message before it is ready to be sent out. The company is trying to mimic conversation, but messaging is often more effective because you have some control of the outcome," says Goldstuck.
Shy audience
Blindspot, launched by Israeli company Shellanoo, has already attracted 700 000 users. The company has responded to complaints of the possibility of the app being used to facilitate abuse by saying it was conceived to give shy people a voice. "What would you say to people you know if you were anonymous?" its advertisement reads.
Blindspot requires users to register with their phone number, which is withheld from texts they send. Recipients, prompted by SMS, must themselves download the free app to see any messages, photos or videos sent. It has become Israel's most downloaded social app in the last month, according to market research firm AppAnnie.
Goldstuck says with how the online environment evolved in the last few years where people are hiding behind anonymity to bully people online, "this is exactly the type of app we don't need".
"Sometimes there is a gap in the market, but not necessarily a market in the gap," says Goldstuck, who believes both of these apps illustrate this.
"There are plenty of messaging apps out there, and people will always gravitate to what they are more comfortable with using.
"There will never be a time when apps and services stop evolving, because then they will be dead tomorrow."
Goldstuck uses Mxit as an example of a revolutionary messaging app that stopped reinventing itself effectively and slowly faded from relevance.
"However, messaging apps do not necessarily have to push boundaries, but need to continue to improve and adapt to people's needs."