The device analgesic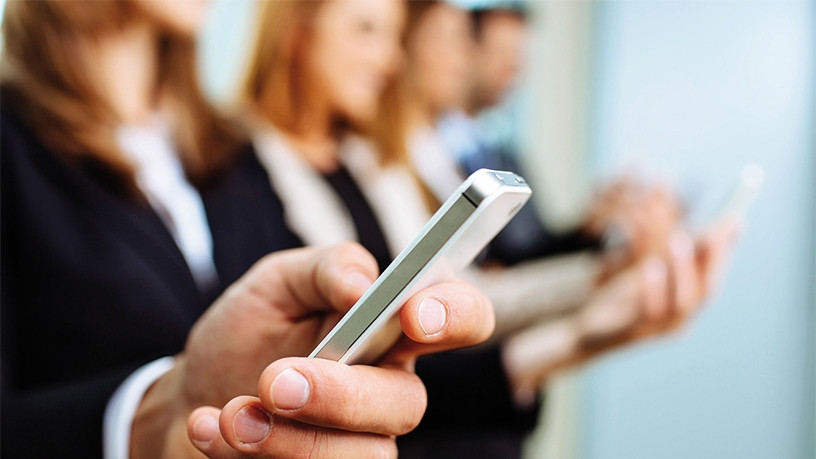 When it comes to devices, there are issues. The sheer volume of variety and vulnerability puts inordinate pressure on the enterprise. Who manages them? What protocols must be put in place? How will a rogue device impact on security or compliance? The questions around their management abound. However, amidst the fears have arisen solutions that not only provide enterprises with peace of mind, but allow for both enterprise and employee to experience the benefits of Bring Your Own Device (BYOD).
According to a study done in 2010 by Dr Teresa Amabile and Dr Stephen J. Kramer of the Harvard Business School, the key driver of happy employees is getting things done. If the business can support employees in improving their own work performance through technology, they'll be happier, and when employees are happy, the business gets higher customer satisfaction and profit margins.
"Device proliferation has seen an increase in employee productivity as well as morale and sense of convenience," says Clayton Campbell, director, Onsite. "Employee devices are an extension of their identity, giving them the ability to use the tools they are comfortable with. This translates into increased productivity gains and cost savings to the enterprise."
Most employees feel that their smartphones or tablets play a critical role, allowing them to achieve more while remaining mobile and connected. A recent Cisco study revealed that employees were saving around 81 minutes of time a week thanks to having access to their own devices. Forbes, Citrix, BT and Egnyte are just some of the organisations that have investigated the benefits of BYOD and come up with the same responses - it's faster, it empowers, cuts costs and drives engagement.
"More and more organisations are enabling mobility for multiple reasons, including the increased productivity of employees when working off-premises while on business trips or at sales meetings or shows," says Neil Cosser, Identity & Data Protection manager for Africa at Gemalto. "Device proliferation speaks directly to enabling this type of mobility and allowing organisations to enjoy operational efficiencies that wouldn't otherwise be possible."
Embracing the challenges
Embracing the potential of the device can give the organisation a competitive edge when it comes to both their business and their human resources. A more flexible, mobile and remote work model is far more attractive to the Gen Y and Gen X professional. However, everyone knows that it isn't a rosy land of petals and songs and productivity. The devices are far lighter than the weighty challenges they introduce.
"The key issue is, obviously, security, as the business isn't sure what devices have which issues or how these are set to impact on the business," says George Kalebaila, International Data Corporation Research director for Telecommunications, Media, and Internet of Things. "It can become a nightmare to manage all these devices and to track their security threat, especially if not properly transferred or tested. Devices are so cost-effective that they keep on rolling in, and they introduce risks and vulnerabilities the business isn't prepared for."
Device proliferation has seen an increase in employee productivity as well as morale and sense of convenience.

Clayton Campbell, Onsite
In a 2016 report, Gartner predicted that by 2021, a nerve-wracking 27% of corporate data traffic will be bypassing the security perimeter and waltzing into the cloud directly from mobile and portable devices. That's compared with ten percent today. Then, of course, there are the issues around data and applications and how these devices are integrated into the business. Roaming devices create a loss of control for central IT and allowing outside devices onto the network skews the boundaries shared between an employee's work and personal life.
What happens when an employee leaves the company and takes their personal device with them? How do you ensure they can't access company assets? What if corporate clients keep calling them directly on a number that is still the employee's property?
"Companies need to implement policies requiring employees to use a form of strong authentication as this is the only way for them to take back control and manage the admin rights of employees who access the corporate network remotely," says Cosser. "Also, relying on usernames and passwords for identity authentication is a problem that can lead to data breaches. Fortunately, there's a variety of technologies available on the market to help the enterprise address the challenges created by BYOD."
Campbell agrees: "The biggest issue is security, but this is followed by integration with corporate back-end systems, controlling employee use of mobile applications, integrations into existing network infrastructure, helpdesk support for devices, and mobile app development for an array of different devices. It really is important for the business to invest in a good mobile device management (MDM) solution that allows corporates to ensure policies are enforced on devices, that software is deployed and that users have access to their favourite tools."
Implement and engage
In a recent analysis of the best MDM solutions on the market, PC Mag put SOTI MobiControl, VMware AirWatch, Citrix XenMobile and IBM MaaS360 as the top four choices based on functionality, price tag and capability. The cost of devices may have seen them pour into hands like business cards at a convention, but the same can be said about the MDM solutions that now populate the market. Competition and innovation are seeing them provide enterprises with innovative solutions that can manage device proliferation, provide APIs, support in configuration and have the scale that allows for improved economies for the enterprise.
"The enterprise has no choice but to proactively manage devices, as they aren't going away. They can easily outsource this to third party players who have the scale and skills to do so more effectively," says Kalebaila. "The good thing for the enterprise is that it then becomes a fixed cost as they can get the service they need instead of developing and tracking every new device and adding on every new configuration or security issue. This becomes the service provider's problem."
Devices falling in from the virtual sky actually present the enterprise with an opportunity. It can plug into the services that are designed specifically for device management, get these services at a competitive price point and stay ahead of the vulnerability and technology game when it comes to issues affecting device management.
"Various innovations in authentication technology have made increased mobility more secure, affordable and both user- and management-friendly," adds Cosser.
A good MDM solution allows for the business to fully provision both old and new devices, tie devices into existing environments and provide and provision user devices with all the tools, applications and network resources they need to access, all at the click of a button. However, it won't work in a vacuum. To ensure that device proliferation is controlled, measured and impactful, the business needs to have a clear strategy in place, and communicate it to the right people.
"The most common mistake is that business has no clear direction or implementation plan, employees don't understand what business wants and business does not understand what it would like to achieve while keeping in mind what it needs to secure," says Campbell. "It is important that business defines this strategy from the start, ensuring that employee and IT are both aware and comfortable with the expectation. Business needs to ensure that their current environment is able to manage an increase in devices and that its tools and systems are in place to support the increase so as to not frustrate the employee or IT."
This article was first published in the November 2017 edition of ITWeb Brainstorm magazine. To read more, go to the Brainstorm website.