Snapchat expands chat options to VOIP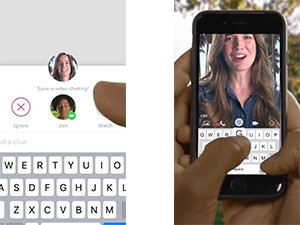 Ephemeral messaging service Snapchat will now offer video and voice calling. This places it in direct competition with other VOIP services, such as WhatsApp and Skype.
Video calling was previously available on Snapchat but both users needed to be online at the same time for the option to appear. Now users are able to call others from within the app, and the other user's phone will ring like it is getting a call from any other service.
Snapchat has over 100 million daily active users and is famed for being popular with younger audiences. Users send each other pictures (often filtered selfies), which disappear after a set amount of time.
Now the company says it aims to emulate the best parts of face-to-face conversation with the new chat functions.
The features allow for users to either chat face-to-face, or for just one user to live-broadcast while the other user watches and replies with text.
Other Snapchat private chat features include allowing users to send voice notes and short looping videos. There are also over 200 stickers available, and stickers relevant to what users are chatting about will pop up first.
Users can "easily transition between all these ways of communicating ? just like in person", said the company in a blog post.
Last year, the company was valued at $16 billion and it was reported six billion videos were viewed each day on the platform.
Snapchat CEO Evan Spiegel said in May last year the company plans to have an initial public offering, but did not specify when this would happen. In 2013, Snapchat turned down a $3 billion acquisition offer from Facebook.