Avaya unveils video conferencing cloud service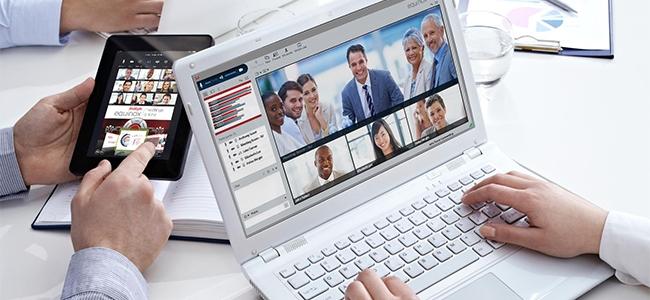 Unified communications solutions providerAvaya has introduced a new, cloud-based video conferencing and collaboration service, Avaya Equinox Meetings Online.
According to the company, the subscription-based video conferencing service - available through Avaya channel partners, offers small and medium-sized enterprises (SMEs) unlimited use of virtual meeting rooms that support up to 50 participants. It has audio, video, data, chat and content sharing features which enable it to bring together participants in any corner of the world.
Virtual meetings can incorporate a variety of vendor room systems, including Avaya Scopia, Cisco, Polycom and Lifesize. It eliminates the need for companies to invest in new infrastructure to support video conferencing and collaboration sessions.
Danny Drew, MD, Avaya SA, explains: "The global demand for easy-to-use video conferencing and collaboration capabilities has never been greater as employees, suppliers, and customers in distributed locations need to quickly come together. As a cloud-based service, Avaya Equinox Meetings Online offers a great opportunity for our channel partners as well as their customers."
Equinox Meetings Online is offered around 30 countries globally, including SA. Built on Avaya's Team Engagement technologies (software which addresses workforce communication and collaboration), the service provides wideband audio and video with up to 1080p HD that's bandwidth efficient and optimised for Internet connectivity. Desktop and mobile participants connect through a link in an e-mail or calendar invitation. Encryption helps keep sessions secure, according to Avaya.
According to a report by Frost & Sullivan: Market Update on Video Conferencing, the total market for video conferencing endpoints and infrastructure is forecast to grow at a compound annual growth rate (CAGR) of 5.5% from 2015 to 2020 to reach $2.9 billion by 2020. The endpoints market is forecast to grow at a CAGR of 6.8% from 2015 to 2020. Unit shipment CAGR on the other hand is forecasted at 25.8%; with rapid adoption coming from the next-generation low priced devices in huddle rooms and open meeting spaces.
"Our research indicates substantial growth ahead for quality cloud-based collaboration solutions. With Equinox Meetings Online, Avaya channel partners will be well-positioned to take advantage of this trajectory while adding an easy-to-use, easy-to-integrate solution to their portfolio of offers," notes Roopam Jain, industry director, Enterprise Communications and Collaboration, Digital Transformation at Frost & Sullivan.
In January, integrated ICT and connectivity provider Vox introduced VoxAir, a Web browser-based video conferencing solution specifically designed for SMEs and virtual workforces.
A month later in February, Amazon Web Service unveiled a cloud-based video conferencing service that competes with Skype for Business and Google Hangouts.