Silos inhibit growth of smart cities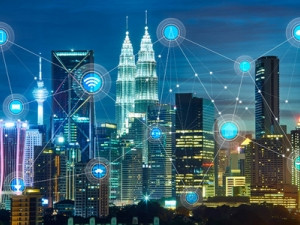 The limited uptick in the deployment of smart city initiatives can be attributed to information systems that sit in silos.
This is according to Edwin Diender, VP for government and public utility sector for Huawei's enterprise business group.
Diender said scaling up the implementation of smart cities calls for the integration of a mechanism that is able to bring together information in silos without replacing them.
The VP shared his insights as part of a focus on the best practices of smart cities and how Huawei is helping governments deploy these initiatives.
Over the course of this week, at Huawei Connect 2017, the company revealed information about cloud enablement and cloud services, as well as the conceptual implementation and development of a smart city.
According to Diender, in terms of the global industry practice in smart cities deployment, every city, government, region and governor has a clear idea of where to be in the coming five or six years, but there is a difficult agenda in place.
They all feel they need to do something to move higher up the value chain; however, they fail to upscale some of these smart city concepts in a sound manner, Diender pointed out.
"In an ecosystem - if you want to create a nerve centre or build a nervous system - for a smart city you cannot work with silos. What you also cannot do is move forward by taking one piece of technology and replacing it with another piece of technology that does not scale, that is not smart.
"What you want to do is integrate and find a mechanism that is able to migrate and work the information silos as one without replacing them and that is where the block in progress sits today."
Defining moments
Although governments have been mulling over smart city implementation for several years, the real definition of this concept is yet to be determined.
Despite this, many cities all over the world are already a little bit in competition with themselves over which is the better smart city, said Diender.
Whatever you think is smart for a smart city is as good a definition as any other, he stated.
"The concept of smart cities is here now and here to stay; it is not here because it is finished but because it is a starting point. Smart cities are not just something that is out of the blue, they are also not something that was created two years ago and it's also not something that sits in the brain and needs to be further developed - smart cities are a subject not just for governments in their government agenda but also for city management teams."
Huawei has created what it calls a nervous system of better connected cities.
Diender pointed out that Huawei does not build smart cities but is rather one of the eco-partners in an ecosystem that will lay the foundation to build these strategies.
He commented that Huawei's position when it comes to e-government and smart city transition and transforming is to help the "nervous system" by focusing on providing the platform and unlocking potential together with eco-partners creating an ecosystem on which smart cities are built.
"The position of Huawei is to help build the nervous system for smart cities with all things connected.
"The back-end information system that supports smart cities is the cloud data centre. It works by integrating and interacting with a couple of networks combined."