Nedbank pilots humanoid robot, Pepper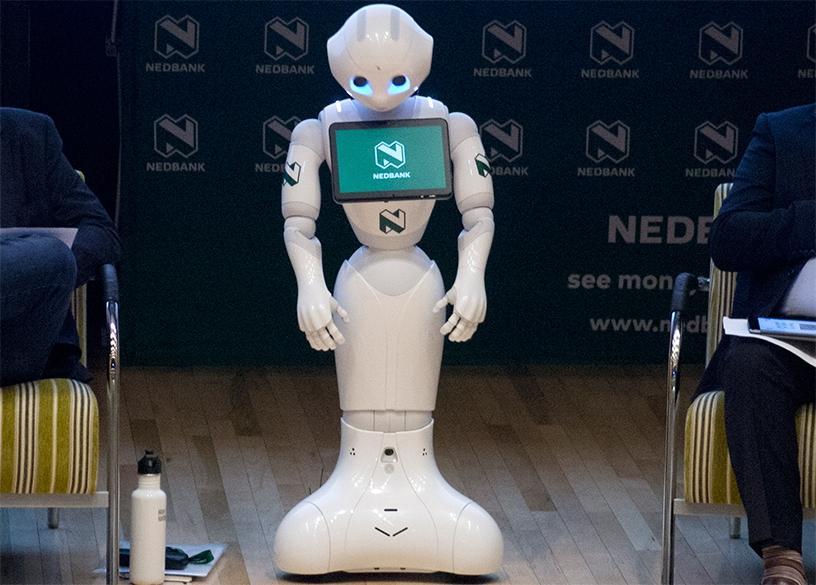 Nedbank is piloting a humanoid robot, Pepper, at its digital branch, the NZone, at the Sandton Gautrain station in Johannesburg.
Pepper, which was collected from customs on Tuesday from France, is the first humanoid robot to have been deployed by any organisation in SA, says the bank.
Created by SoftBank, the robot can be programmed to recognise voice, principal human emotions, chat with customers and answer questions, notes Nedbank.
Since 2016, the robot has been used to serve coffee, as a waiter, salesman and customer service representative in about 500 companies in Japan, including Nestle, Mizuho Bank and Nissan.
Ciko Thomas, Nedbank Group managing executive for retail and business banking, says Pepper will visit various Nedbank branches throughout SA from April to showcase the bank's digital and self-service innovation. This will create a platform for engagement as a digital ambassador for Nedbank - without taking over human interaction, which is integral to the bank, says Nedbank.
Thomas says in understanding how humanoid robot technology can be used in a service champion role, Nedbank has learnt from best practice and global peers that have deployed similar solutions, such as Emirates NBD Bank in the United Arab Emirates, Japanese fashion retailer Uniqlo in France and Japanese mobile operator SoftBank.
The global service robotics market is expected to surpass $60 billion by the end of 2024, says a report by Research and Markets.
Thomas says the robot is interactive, progressive and autonomous, and will continue to evolve and grow with Nedbank in the South African environment.
However, it cannot do much with its body besides gesturing with its hands and head.
"While we have been exploring robotics and automation to help streamline our process for quite some time, Pepper signals an evolution of our digital journey as we welcome her as the latest member of our Nedbank family," says Thomas.
Pepper will act as a drawcard in branches, creating the perfect opportunity to engage with current and prospective clients on Nedbank products and services, including digital and self-service offerings, he adds.
"The bank has no fixed idea on how it will use Pepper as of yet. We are not exactly sure what we are going to use it for; we are learning as an organisation ? we are buying this piece of hardware with artificial intelligence and we will use the power it brings us to expand our capabilities."
Thomas says the idea to invest in Pepper came about after he and Nedbank's chief digital officer, Ray Naicker, saw how the robot energised customers at a SoftBank branch in Ottawa, Japan.
"We didn't have any preconceptions about Pepper, we just liked the interaction it had with customers - it was novel, felt fresh and efficient. And we thought it was something we could add to our narrative."
Pepper, like any artificial intelligence platform, learns as it goes, says Thomas. You feed it a language and with time it will learn and start understanding, he adds.
For instance, yesterday, it took the robot 30 minutes to learn how to say sanibonani (which in Nguni African language means hello) with the perfect inflection and accent, he adds.
There are certain advantages of having a robot, says Thomas, because unlike a human it does not get sick and as a result offers reliability and consistency - and can do repetitive and boring work.
The bank says in the last four years it has invested R2 billion yearly in digital and digitisation projects.