Instagram adds safety features to combat fake accounts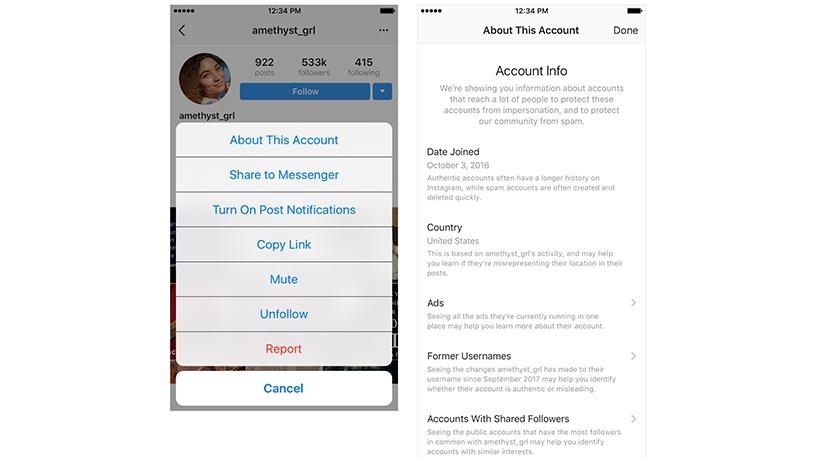 Picture-sharing social network Instagram has added three new features that it says will help keep its community safe on the platform.
"Our mission is to bring you closer to the people and things you love. That closeness can only happen if Instagram is a safe place," Mike Krieger, co-founder and CTO, says in a blog post.
"As the CTO of Instagram, keeping people with bad intentions off our platform is incredibly important to me. That means trying to make sure the people you follow and the accounts you interact with are who they say they are, and stopping bad actors before they cause harm."
The new features will let users evaluate the authenticity of accounts with large followings, let anyone apply to be verified, as well as set-up two-factor authentication.
The company says in the coming weeks, users will start to see an 'about this account' option in the dropdown arrow in a user's profile. In this section, users can see the date the account was created, the country in which the account is located, accounts with shared followers, any username changes in the last year and any ads the account is currently running.
All this information helps users see if other accounts with large followings are authentic. For example, if an account has over 10 000 followers but was created yesterday, there is a good chance it is fake. The information will also help users who are being harassed, as they will be able to see if the account that is following them is actually their harasser who has tried to hide their identity with a new username.
"Our community has told us that it's important to them to have a deeper understanding of accounts that reach many people on Instagram, particularly when those accounts are sharing information related to current events, political or social causes, for example," says Krieger.
Confirming your identity
Applying for the coveted 'blue tick' is now open to all Instagram users. The blue verified badge was developed so that users know they are interacting with the authentic presence of a notable public figure, celebrity, global brand or entity.
"Today, we are enabling a new way for accounts that reach large audiences and meet our criteria to request verification through a form within the Instagram app," says Krieger.
"To be verified, an account must comply with Instagram's terms of service and community guidelines. We will review verification requests to confirm the authenticity, uniqueness, completeness and notability of each account."
The verification form will be available through the user's profile in their settings menu. Users will need to submit their full name and a copy of their ID. Instagram says this information will not be shared publicly.
The company does note that submitting a request for verification does not guarantee the account will be verified, and warns it will never request payment for verification, or reach out to ask users to confirm their verification.
World Wide Worx MD Arthur Goldstuck says: "There is already a well-established verification ecosystem on Facebook and Twitter; this is simply Instagram playing catch-up."
He says the key to verified accounts is trust and trusting that public figures on social media are actually the person they say they are.
"Fake accounts are a major issue, particularly where it is based on large followings and people, who are under the mistaken impression they are dealing with the real person, acting on information they receive from them. This can have enormous consequences.
"In South Africa, for example, on Twitter we have seen fake accounts impersonating public figures being created to create false narratives and drive a destructed agenda," says Goldstuck.
Making accounts less hackable
The third safety feature that will be added in the coming weeks is support for third-party authenticator apps. This option is accessible through the settings menu.
"If you already have an authentication app installed, we will automatically find the app and send a login code to it. Go to the app, retrieve the code and enter it on Instagram, and two-factor authentication will turn on automatically," says Krieger.
"If you don't have one installed yet, we will send you to the App Store or Google Play Store to download the authenticator app of your choice. Once you've installed it, return to Instagram to continue setting up your two-factor authentication."
The Facebook-owned entity has over a billion monthly active users. The app was launched in 2010. Facebook acquired the company in 2012 for $1 billion, just before it reached 100 million users in 2013.
"We know we have more work to do to keep bad actors off Instagram, and we are committed to continuing to build more tools to do just that," says Krieger.
Last year, the company added safety features that allowed users to control who can comment on their posts as well as anonymous reporting on live video. To prevent abuse in the comments section of photos posted to the site, Instagram users who have a public profile are able to choose who can comment on their posts. They can allow anyone to comment, or just their followers, or only people they follow.