Gold-backed crypto-currency lands in SA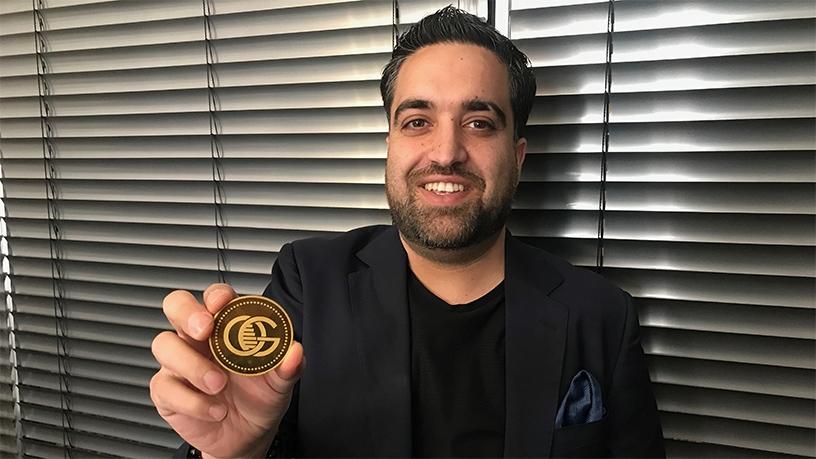 OneGram, which claims to be the world's first crypto-currency that is both gold-backed and Shari'ah compliant, has officially launched in South Africa.
One of the reasons crypto-currencies are gaining traction worldwide is because they offer investors an alternative investment opportunity that is not subject to the whims of governments and corporations,
OneGram does this and assures that the price of one OneGram Coin (OGC) will never dip below the price of gold.
Each OGC is backed by one gram of physical gold that is stored in a vault, combining one of the world's oldest and most stable assets with a digital platform.
OneGram raised more than $400 million in its initial coin offering last year. There is a maximum of 12 400 786 OGCs available.
The coin went into circulation in January 2017 in Dubai and has since debuted in 13 other countries (including Kazakhstan, Pakistan, Germany, Russia and Malaysia). Now OneGram is opening up shop in SA.
It decided to base a team here because of the level of interest it received from the country. OneGram has over 100 000 investors from 88 countries around the world, many of them from non-Muslim regions, and there is already a significant number in SA, which is why it was drawn here.
The South African office will eventually have a team of up to 10 people and act as a base for OneGram to get into other African countries. The company says there has already been interest from Nigeria and Kenya, and it has reps on the ground there.
"We anticipate the demand from Africa to be significant," says OneGram co-founder Ibrahim Mohammed.
"OneGram presents investors in Africa with a unique way to join the crypto-currency market with none of the risks typically associated with it. Driven by gold, OneGram is a powerful digital token that combines the world's most influential asset with the means to embrace digital innovation.
"Our approach to developing OneGram was to create a bridge between commodities and crypto using physical gold and package it together using innovative blockchain technology. In this way, we are able to give our users the best of both worlds and provide a degree of certainty around the notoriously fickle crypto-currency market," says Mohammed.
"I'm hoping that the future becomes asset-backed, because regulators can get on board quite easily with that. We have engaged with some already, including Pakistan and Malta."
Mohammed says another one of the innovative aspects about OneGram is that there is no mining.
OneGram uses a proof of stake protocol as opposed to the more commonly used proof of work-based crypto-currencies. This means the coin cannot be mined through the solving of complex mathematical problems. Instead, its algorithm attributes validation power to the proportion of coins held by an investor.
"Crypto-currency mining presents a significant environmental risk to the planet as these computers require an immense amount of power to operate. Some analysts estimate that in 2015, the amount of electricity needed for one Bitcoin transaction could power almost two American households for a day," says Mohammed.
To ensure the company always has enough gold, everyday 70% of the transaction fees it charges users goes towards buying more physical gold. This provides its users with a backup reserve continually increasing in value with every transaction made. Transaction fees are charged at 1%.
Of the remaining 30%, 2.5% goes to the OneGram Foundation, a charitable organisation that is focused on benefiting communities around the world. And 2.5% goes towards the network of validators and the leftover 25% is OneGram's profit.
The investors' physical gold is stored in vaults spread across Switzerland, Dubai and Singapore.
The 20% of the physical gold that OneGram owns, which equates to 2.4 tonnes, will be housed in the OneGram Dubai offices so that people can see it.
OneGram will launch an exchange called Huulk later this month. At first it will only host OneGram but will eventually feature the top 20 performing crypto-currencies.
Mohammed says a transaction on the OneGram blockchain will take 15 seconds to complete.
He notes it was important that the coin was Shari'ah compliant because it is a type of financing that always protects the investor's rights.
"We thought that in an environment [crypto-currency] where there is no regulation, essentially we became the first regulated coin by following Islamic finance rules," says Mohammed.
"After the 2008 crash, countries like France and Spain have been embedding Islamic finance in their core rules and regulations, because Islamic finance regulations always protect the investor.
"So it is about having transparency; it's about having a tangible asset. Regulators also regularly check up on us and any time we divert from these principles our compliancy will be stripped."