$10m Jack Ma prize will support African digital start-ups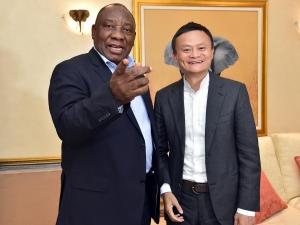 During his first trip to South Africa, Alibaba founder and executive chairman Jack Ma announced that the foundation in his name, together with the Alibaba Business School and the United Nations Conference of Trade and Development, will launch the Africa Netrepreneur Prize.
Worth $10 million, the prize is meant to support exemplary young Internet leaders on the continent. It will recognise 100 African entrepreneurs over the next 10 years focused on grassroots innovation, economic empowerment of women and small businesses.
During an address at the Netrepreneurs: The Rise of Africa's Digital Lions which took place on Wednesday in Johannesburg, Ma said Africa is full of opportunities and dreams.
He said when he started Alibaba in 1999, there was no such thing as the Internet in China, so people did not believe him when he said he was starting an Internet company. He said Africa holds the same opportunities as he did back then. Ma told entrepreneurs not to see the lack of infrastructure, logistics and credit card penetration in Africa as something that holds them back, but see the opportunities in the problems.
Ma encouraged entrepreneurs in the auditorium to value their customers and employees over shareholders: "If the customers and colleagues are happy, the shareholders will be happy."
He also said start-ups should learn from other companies' failures, because the mistakes in early business are often the same, but success stories are random.
Ma met with president Cyril Ramaphosa earlier in the day and said they exchanged views on the global economy as well as prospects for investment in SA, where the government is putting in place measures to attract $100 billion in new domestic and foreign direct investment over the next five years.
He also spoke to the president about giving start-ups in SA tax breaks, because: "Taxing start-ups is like taking the meat off a mosquito's legs."
The Netrepreneur Prize, Ma noted, is to drive the entrepreneurs in Africa to help drive the African digital economy.
Starting in 2019, the Jack Ma Foundation will host an annual pitch competition, with 10 finalists selected from across the continent to showcase their talent and business ideas, and compete for $1 million in prize money. All 10 finalists will receive grant funding from the Jack Ma Foundation, as well as access to the Netrepreneur community of African business leaders to leverage the community's shared expertise, best practices and resources.
The foundation says applicants must be African nationals leading mission-driven organisations. Applications for the first pitch competition will be open from January 2019 until April 2019, and the finalist pitch competition will be held and broadcast across Africa in the second half of 2019.
Former secretary-general of the United Nations Ban Ki-Moon delivered a video address at the event. He said the next century belongs to Africa and its youth. He will also sit on the advisory board for the Netrepreneur Prize.
This is Ma's second visit to Africa. Last year, he went to Kenya, Somalia and Rwanda, and spoke at the YouthConnekt Africa Summit. He said after visiting Africa once, he would come back every year and visit at least three countries (this year it is Ethiopia, Botswana and South Africa).
Last year, he made four commitments aimed at supporting education, e-commerce and conservation in Africa.
The first was to train 200 young African entrepreneurs and founders of digital companies. To date, Alibaba has hosted 52 young African entrepreneurs at its headquarters in Hangzhou, China, to participate in the eFounders Fellowship.
The second was to create training programmes centred on e-commerce and the digital economy with African universities and governments.
The third was to create an award for rangers working in Africa's parks to promote conservation efforts in Africa. This has been established, and in a 10-year award programme, 50 wildlife rangers will be awarded a prize of $3 000 each year.
The fourth was to award $10 million in prize money over 10 years to African entrepreneurs working to address Africa's most important challenges and further its digital economy through local entrepreneurship. This fourth commitment is the Jack Ma Africa Netrepreneur Prize.