Academia, industry must strengthen 4IR research collaboration
Academic researchers in SA should work closely with civil society, non-profit organisations, state institutions and private sector organisations.
Research has the potential to enhance the lives of many South Africans.
Although many researchers are working on addressing the immense problems facing the country, these challenges call for bold and innovative solutions and therefore more engaged collaborations with stakeholders.
In other words, academic researchers in South Africa will have to work closely with civil society, non-profit organisations, state institutions and private sector organisations, and thereby establish diverse research teams to translate their theoretical research into practical solutions.
Innovative 4IR research: Hype or opportunity?
Professor Klaus Schwab launches a strong critique against academic research.
He argues: "Academic institutions are often regarded as one of the foremost places to pursue forward-thinking ideas. New evidence, however, indicates that the career incentives and funding conditions in universities today favour incremental, conservative research over bold and innovative programmes."
Schwab says: "One antidote to research conservatism in academia is to encourage more commercial forms of research… To foster both ground-breaking fundamental research and innovative technical adaptations across academia and business alike, governments should allocate more aggressive funding for ambitious research programmes.
Public-private research collaborations should increasingly be structured towards building knowledge and human capital to the benefit of all.
"Equally, public-private research collaborations should increasingly be structured towards building knowledge and human capital to the benefit of all."
Some critics have argued that in a country like South Africa, which is struggling to equitably redistribute the benefits of the first and the second industrial revolution, we should not be diverting our attention and resources caused by the hype of the fourth industrial revolution (4IR).
4IR panel discussion at SAICSIT conference
The issue of collaborative research for 4IR was debated by a panel of academics at the South African Institute for Computer Scientists and Information Technologists (SAICSIT) conference, which took place at Nombolo Mdluli Conference Centre, Skukuza, in September.
SAICSIT is a prominent local association supporting education, training and research in computing and IT.
The first SAICSIT conference was held in 1979. This year was a very special occasion as it celebrated 40 years since the first SAICSIT conference. As panel organiser and moderator, I explored the issue of collaborative research for 4IR with four outstanding computing and IT scholars on the panel.
The panel included:
Robert Winter, professor of business and information systems engineering at the University of St Gallen, and director of its Institute of Information Management.
Paula Kotze, extraordinary professor at the Department of Informatics at the University of Pretoria and adjunct professor in the School of ICT at Nelson Mandela University.
Judith Bishop, extraordinary professor, Computer Science.
Kirstin Krauss, professor, School of Computing, University of South Africa.
The need for more intensive research collaboration
Judith Bishop has been a professor in South Africa for many years, specialising in programming languages, software engineering and distributed systems.
Recently, she spent eight years at Microsoft Research in Seattle, where she worked on projects from functional programming to mobile computing and software testing.
She is passionate about developing the international profile of computer science in South Africa through summer schools and high-profile meetings and conferences held here.
Reflecting on her experiences at Microsoft, Judith says: "At Microsoft Research, we worked with academics in universities on projects that were at the forefront of our agenda. Academics were hungry to be associated with industry in order to shape our technology.
"The same trend exists in South Africa, but for different reasons. Academics want to be associated with industry because it gives them some reason for their research, rather than enabling early access to technology."
Prof Bishop raised her concern that a lot of young people in South Africa are not keen on studying technological subjects.
Research for greater impact
For our guest from Switzerland and conference keynote speaker, Robert Winter, academic research is generally lagging industry as it mostly aims at describing and analysing practices, and only rarely to improve those practices.
As a consequence, the contribution of academic research with regards to its impact on industry is often limited.
To create research that has greater impact, Prof Winter called for scholarly engagement not just with a single company but with a consortium of companies. This allows one to better differentiate improvement activities from consulting (which is company- and context-specific), and allows one to create synergies on both sides.
Building SA's collaborative research ecosystem
According to Robert Winter, 4IR research and projects are "something that happens in an ecosystem-like setting, so there are different actors, that need to be coordinated, which requires a need to create common ground".
"If several companies are participating in a research project, it will help to move away from pre-designed innovation to something that is more projectable and better publishable... if we have five companies interested in an innovation, they all put on the table some amount of money – it will be five times that amount of money, and they can share the results. Then we get five times more output. That's how we 'sell' these projects."
Readiness of research-intensive university at University of Pretoria
The Faculty of Engineering, Built Environment and Information Technology at the University of Pretoria has already begun steps to prepare for 4IR.
From a research perspective, these include a new Future Transportation and Sustainable Future Smart Cities infrastructure and research programme, and a world-leading Big Data and Data Science Institute.
In the School of Information Technology, the Department of Information Science has launched a state-of-the-art research, teaching and learning facility through its new virtual reality and interaction) lab.
The Department of Informatics has a mobile development lab and a user experience lab that provide students with a creative space to learn about and experience current trends in technology design.
The Department of Computer Science has already added a stream in big data science to its Masters degree offerings.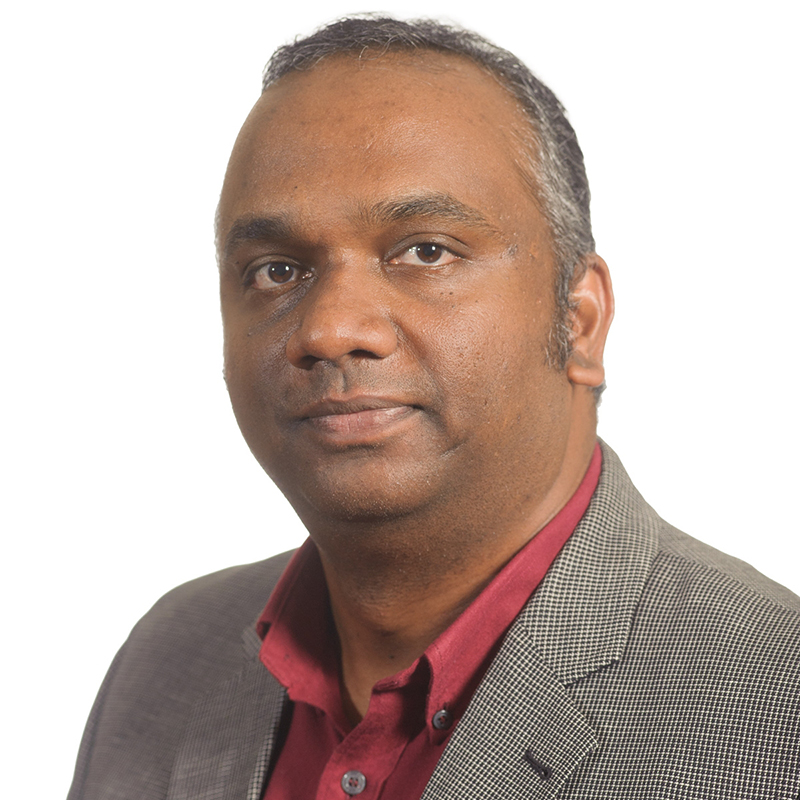 associate professor at the School of IT, Department of Informatics, University of Pretoria.


Rennie Naidoo is an associate professor at the School of IT, Department of Informatics, University of Pretoria. He has served a number of clients on a number of IT projects in both the public and private sectors over a 20-year period.

Naidoo is also a NRF-rated researcher. His research interests are broadly about information systems and organisations with a particular focus on IT value, IT human resources development and end-user issues. He has published articles in leading international outlets such as the Journal of Strategic Information Systems, European Journal of Information Systems, Information Technology & People, and the Information Society Journal.

He has also presented at premier international information systems conferences such as the Americas Conference on Information Systems, Pacific Asia Conference on Information Systems, European Conference on Information Systems, and the International Conference on Cyber Warfare and Security.

Naidoo lectures topics on IT investment and enterprise systems to postgraduates at the university. He is passionate about giving to those who work in the IT field greater insights about business and finance. He runs a course on finance for IT professionals through CE@UP.