Tough Jungle takes top App Star prize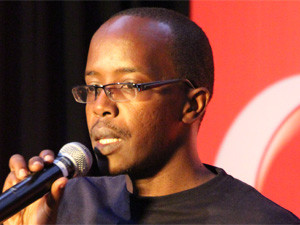 Kenyan app developers dominated at the Vodafone App Star Challenge awards ceremony, held at Vodacom World, in Midrand, last night.
Tough Jungle, a wildlife adventure game set in Kenya, was the ultimate victor, with Eureka, a mathematics problem-solving app, also out of Kenya, coming in second. The top three was rounded out by the SA-developed Ster-Kinekor app, which simplifies the process of booking movie tickets from a mobile device.
"I really didn't expect this," said Tough Jungle developer, Gerald Kibugi, after his win. "Me winning and my colleague from Kenya winning too is a great thing."
The app was developed over just three months by a team of three, and sees the user moving through the Kenyan jungle dodging landmines and killing dangerous wildlife. The game is divided into three landscapes, with six levels in each, making the game "18 levels of fun", according to Kibugi. Players will have to successfully complete certain levels before navigating to the next.
"People get bored so quickly with games, especially if you don't add new features and improve on them; that is why we added so many scenarios."
Kibugi's adventure game earned him $25 000, with $15 000 awarded to the runner-up, and $10 000 awarded to the third-prize winner. The other finalists who made it into the top nine were all awarded $2 000.
"I am really, really happy," said Eureka app creator, Gilbert Rono. "In fact, I just called my parents and they couldn't believe it." The Eureka app provides detailed methodology and solutions to maths problems and can be used on most handsets, something Rono emphasised, as most students cannot afford expensive smartphones.
Apps for social change
Only in its second year, the local Vodacom App Star Challenge branched out this year by joining forces with the international Vodafone App Star Challenge.This year's competition featured app developers from SA, Egypt, Kenya, Lesotho, Tanzania and Qatar. Participation in the international branch of the competition increases the exposure enjoyed by apps, as they will be made available to millions of customers globally, says Vodacom.
According to Prins Mhlanga, managing executive of Vodacom Digital Media, the App Star challenge puts the spotlight on individual developers whose apps are solving real-world problems and catering to the needs of local markets. "This challenge is part of our effort to bring the power of the Internet into the hands of more people," said Mhlanga.
This was also highlighted by Vodafone's VP of solutions for emerging markets, Pratapa Bernard, who was one of the judges. "This competition is about developing apps that make things better for those around you, and for Vodacom and Vodafone, it allows us to provide developers with support and with an opportunity to reach new markets," he said.
According to Kibugi, the prize money will be used for advertising and improving the application. "The money that I've won will go back into the application to polish it up," he said, adding that it will also fund the official Tough Jungle app launch in March 2013. Kibugi hopes Tough Jungle will enjoy the same success as Angry Birds.