Sbu Shabalala scoops IT Personality of the Year 2016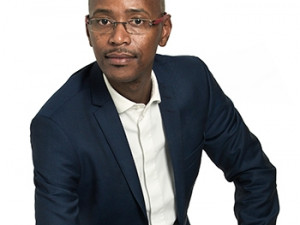 Sbu Shabalala, CEO of Adapt IT, has been named the 2016 IT Personality of the Year.
This was announced at the Institute of Information Technology Professionals South Africa (IITPSA) President's Awards, held at Montecasino in Sandton, this morning.
This year marks the 38th IT Personality of the Year Award, which recognises an individual who has made a positive impact on the South African IT industry and a significant contribution to the IT profession in the past year.
It is presented by the IITPSA, in association with ITWeb, the Gordon Institute of Business Science (GIBS) and Gartner Africa.
Global software stage
According to the judges, Shabalala's passion and business savvy has driven the success of a truly empowered international business that is creating wealth and opportunities for South Africans.
They added he has grown Adapt IT to almost a billion-rand revenue business in 13 years, extending its reach, with offices in New Zealand, Australia, UK, Mauritius, Botswana and Kenya.
"The organisation was listed on the JSE nine years ago, showing it meets global levels of corporate governance and transparency, and today employs 950 people, most of them software developers."
The judges added Shabalala believes South African software engineers have a great deal of intellectual property that deserves a global stage and created SA's largest exporter of software - with ambitious goals for exponential growth in the future.
On receiving his award, Shabalala said: "Thank you very much to the IITPS, ITWeb, GIBS and Gartner. This really comes as a shock. I am humbled by the recognition of the little work that we have managed to do to date as Adapt IT. Thirteen years ago, we were just at the beginning of our journey. As mentioned, we export software to 38 countries out of SA; we are taking locally developed software out of South Africa."
He added: "This award is the recognition that is given to the team. I work with smart people who are humble, yet driven, so we try to get a balance between these traits to deliver the software. For me, it means I chose the right team to join ? it is this team that has ensured that our customers who are at the centre, remain the centre of everything that we do."
Shabalala says the work Adapt IT does also aims to redress the imbalances of the past in SA. "That's a passion within Adapt IT. We are an empowered business, and we ensure that opportunities in software engineering go to those who might not have had the opportunity in the past. This recognition will hopefully encourage other entrepreneurs and I thank all the other finalists for their contributions too."
Ethics and excellence
Hamilton Ratshefola, country manager at IBM who won the award in 2007, presented this year's award. He said: "Winning for me was truly humbling. Firstly, to be acknowledged by your peers and the industry, and for you to be acknowledged for your contribution to the country and the economy.
"The award was not a destination, it was a milestone. It drove me to do better. Once I received the award, opportunities became more plentiful, but the onus on you becomes greater. We need to foster ethical leadership and excellence in the workplace."
Shabalala faced off against eight other top IT professionals: Brandon Bekker, MD of Mimecast SA; Carel du Toit, MD of Mint Management Technologies; Edward Lawrence, director of Workonline Communications; Elizabeth Gould, founder of Project CodeX; Lee Naik, MD of Accenture Digital SA; Luvuyo Rani, MD of Silulo Ulutho Technologies; Marius Coetzee, CEO of Ideco; and Zoaib Hoosen, MD of Microsoft South Africa.