Another innovation nod for Paperight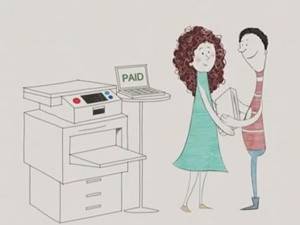 The South African print-on-demand start-up, Paperight, won the Digital Minds Innovation Award at the London Book Fair in London, on Sunday.
Paperight, launched in May 2012 and funded by the Shuttleworth Foundation, was praised at the awards for its innovative solution to SA's problems with book distribution.
The Web site enables photocopy shops to have a prepaid account on Paperight, and use the site to instantly download books for printing as walk-in customers ask for them. It deducts small licence fees from the outlet's account for each print-out and pays that to the publishers.
Printing books through the Paperight service is also between 10% and 30% cheaper than buying a book from a traditional outlet. The total price is made up of the licence fee, as well as printing and binding costs. The photocopy outlet decides what method of printing and paper is used and charges for its own service.
A video of how the service works can be viewed here.
Previous accolades
The start-up also won a similar innovation showcase at the O'Reilly Tools of Change conference, in New York City, in February, as well as a seed grant from the SAB Foundation as part of its Innovation Awards.
At the O'Reilly Tools of Change Start-up Showcase, Paperight was the only shortlisted innovation from outside Europe and North America. At the London Book Fair, Paperight beat tough competition from the Middle East.
The start-up has also received praise for its innovation from the South African Parliament, Forbes, as well as CNBC Africa.
Untapped market
Paperight founder and CEO Arthur Attwell says until now, photocopy shops in Africa, that are little hubs of economic activity, have never been used as legal, print-on-demand bookstores.
"By making this happen, we've put bookstores in places where books have literally never been sold before (like rural areas), accessible to people who can't get to bookstores and can't get online themselves to read or buy books there," he says.
Attwell adds that through the service, copy shops get to offer a whole new service to their community that has been well received and successful. "Copy shops around the country have already earned tens of thousands of rands in extra turnover by using Paperight."
Paperight manages to bring down the cost of books by an average of 20% by reducing accessibility costs. "We cut out the travel, delay and frustration of trying to find a book at traditional bookstores, which are often poorly stocked," notes Attwell.
For publishers, the service offers a new market. "People who buy from Paperight outlets are not the same people who buy from Exclusive Books, for instance. We're creating new readers that will sustain the book industry in the long run. Right now, it's been estimated that less than two million people buy books regularly in SA (excluding school textbooks bought directly by government), and that number isn't growing fast enough to sustain local bookstores. Our Paperight outlets could reach another 40 million, and that's just in SA," he says.
Attwell says the company aims to tap deeper into the struggling education sector in the country, making a difference in the delivery and affordability of school and university books. "We are working with publishers and copy shops on making that happen. And we hope to grow in Kenya and Ghana in particular in the next year."