Exclusive: Uber sets out to map Cape Town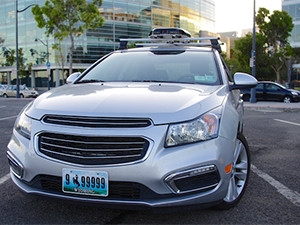 Uber, the app-based taxi service, will today deploy mapping vehicles in Cape Town to help improve the technology its whole business is based around: mapping.
Cameras affixed to nearly a dozen Uber cars will take a stream of photographs to help Uber improve drop-off and pick-up locations, estimated time of arrivals, and establish faster routes.
The fixtures look similar to the Google cars which drive around capturing imagery to be used in the Google Street View product.
In an interview with ITWeb, Uber's head of product for maps, Manik Gupta, who was previously head of Google Maps for more than 10 years, said the Uber vehicle cameras will be used to capture the next level of data needed in the mapping space.
Gupta pointed out Uber would not exist if comprehensive interactive digital maps had not been created first.
"Existing maps are a good starting point, but some information isn't that relevant to Uber, like ocean topography. There are other things we need to know a lot more about, like traffic patterns and precise pick-up and drop-off locations. Moreover, we need to be able to provide a seamless experience in parts of the world where there aren't detailed maps ? or street signs," says Gupta.
For example, this data will help Uber figure out all the different and most convenient entrances and exits at places like shopping malls and airports.
Earlier this year, Uber mapping cars were put on the road in Mexico, Canada, the US and UK.
Gupta says the company has not figured out yet if it will bring mapping to all regions in the world, but is instead starting in key cities to collect information and figure out how to use it most effectively.
The cameras will only capture a series of photos, not video, and photos of riders at the exact point of pick-up and drop-off will not be retained.
The vehicles used for the data capturing are owned by drivers who already make use of the Uber platform. Uber says driver-partners were asked to participate and the company went with the vehicles that were best suited to accommodate the mapping device.
Uber says the cars will be rolled out in the city over the next month, with other cities in SA to be covered eventually.
Gupta says Uber will continue to work with partners, as there are lots of different technologies involved in maps.
Looking ahead
When asked if this was part of Uber's plans to eventually move to autonomous cars, Gupta said bets are being made industry-wide, including at Uber, but right now the focus is on using the information gained from the cameras to improve the experience for the passenger.
"Over the past decade, mapping innovation has disrupted industries and changed daily life in ways I couldn't have imagined when I started," says Gupta.
"That progress will only accelerate in the coming years, especially with technologies like self-driving cars. I remain excited by the prospect of how maps can put the world at our fingertips, improve everyday life, impact billions of people and enable innovations we can't even imagine today."