MS digitises African Tour De France team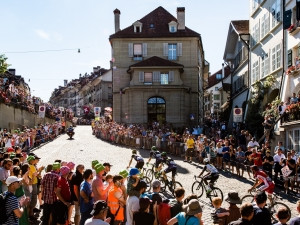 Microsoft is sponsoring Team Dimension Data for Qhubeka by providing all ground staff and riders with Office 365 to manage logistics more effectively at the Tour De France 2016.
According to Microsoft, Team Dimension Data for Qhubeka is the first and only African team to participate in the Tour de France, and is cycling once again to raise funds to provide bicycles to people in disadvantaged communities.
The team managing this initiative is spread out across Europe, Asia and Africa. Microsoft Office 365 enables them to collaborate, communicate, schedule, share information and ultimately allowing for greater time and cost efficiency while keeping the DiData team connected across the world, says the technology giant.
"Microsoft has been sponsoring the team since 2014 and the partnership has been paying off ever since. Mark Cavendish's victory in the opening stage made it even more exciting to be a part of this amazing team," explains Rami Azzi, business group lead for applications and services for Microsoft West, East and Central Africa.
Office 365, he adds, is not a standalone app that was developed specifically for the Qhubeka team during Tour de France, but rather the team was provided with the program to make use of the various features and tools to manage the team and their day-to-day communications.
"During the race, all Qhubeka team members made use of Skype to connect with each other, they were also able to access e-mails with updates on any event dates and time changes, aligning to their centralised calendars, as well as One Drive that was available to each of them to save data and information to share with other teams members and communicate with the administration bodies," he notes.
Douglas Ryder, team lead at Qhubeka, says Microsoft offered them the best logistical solution to connect their team.
"With Office 365 everything is managed centrally and we also implemented a cycling administration system developed on the Microsoft platform, so we don't have to worry about missing an important update because we have a central repository. We have also cut our communication costs, not to mention our stress levels, meaning we can focus on race preparation and analysis," he elaborates.
Team Dimension Data for Qhubeka was founded in 2007, steadily working its way up from a regional team to now being a World Tour team with bases in South Africa and Italy.
The team consists of nine riders and has raised enough funds for 5 000 bikes that have been given to children in rural communities in Africa to get them to school faster and more safely.
The Tour de France began on 2nd July and ends on 24th July. The race is 3 519km long and includes 21 courses.