SoundBar app aims to satisfy growing music-on-demand crowd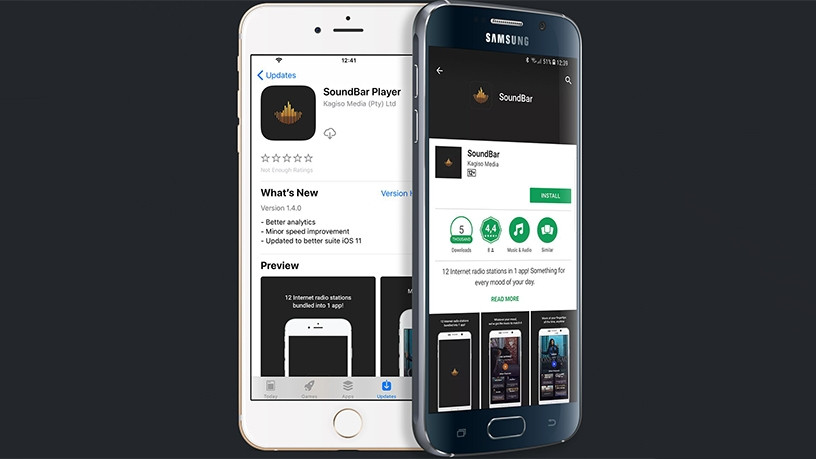 SA media company Kagiso Media has launched a mobile app which offers consumers 12 different Internet music stations on one platform as the firm accelerates its path towards increased digital content offerings.
The SoundBar app is platform for a suite of Internet radio stations which are genre specific and anchored by well-known radio personalities.
According to Nick Grubb, chief executive for radio at Kagiso Media, the app is an aggregator of all the niche streams. "Some time back we built discrete apps by people with knowledge and a passion for their craft like Barney Simon (Rock On) and Derek the Bandit (Databass). We then started developing other stations that are personality led and dedicated to a specific music genre. SoundBar is essentially the aggregator of all the streams we have conceived to date.
"Our traditional radio streams have grown exponentially in the last year, and given that we have best-in-breed technology and talent curators in-house, this seemed like the perfect opportunity to deliver more choice and value to our audiences," he explained.
Given the contention of high data prices in SA, Vincent Maher, chief innovation officer at Kagiso Media, says the team made sure the app is efficient in its use of data, "[The app] uses 14Mb per hour, compared to similar apps which can use up to 140Mb per hour. We accomplished this by combining the best audio compression available with a technique called Spectral Band Replication. Listeners can even access the app off Edge signal."
The app also includes stations by DJ Jazzy D (Party mixes) and Jane Linley-Thomas (Mom's Heart ), while dedicated genre stations include Stroom for Afrikaans musiek, House-it for popular house music, Urban-ized - a station for R&B hits as well as We're Hip Hop which caters for hip hop lovers. The app also features a pop-up channel which will change regularly and contain special themes.
Music on demand revenue is gradually growing globally with a recent report by the International Federation of the Phonographic Industry (IFPI) indicating that 45% of music consumers are listening through a licensed audio streaming service in 2017 (up from 37% in 2016) while 90% of paid audio streamers listen to music using a smartphone.
Tracy Fraser, MD of Warner Music SA, is quoted in the report explaining that the SA market is gradually moving towards digitisation. "The South African market has been dominated for many years by physical sales, but they are declining rapidly. Digital is growing exponentially, but there is still a lot of growth to come, as smartphone penetration is growing quickly. As handset and data prices continue to come down, this growth should accelerate across the continent, which represents a huge opportunity for digital music services and opens the door to more investment in local music by international record companies."
The SoundBar app is currently available for free download on the App Store and Google Play Store.