New app exposes unhealthy food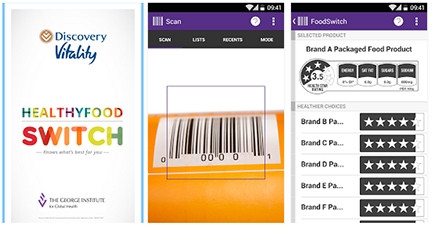 A mobile nutrition app, HealthyFood Switch, was launched at the Discovery Vitality Summit yesterday, in partnership with Vitality and The George Institute.
It lets the user scan a product barcode using a cellphone camera, and all of the product's nutritional information pops up within the app. The products are then given a rating of one to five stars ? the higher the star, the healthier the food. Each product is also rated in a 'traffic light-style' system for its total fat, saturated fat, sugar and salt content. A red-rated food is not good, while green is a healthy option.
If the choice is rated red or has a low star rating, the app will then suggest healthier alternatives in store.
The app also allows users to save favourite foods, make shopping lists and share those with family and friends.
"Most processed and ready-made foods contain too much added salt, sugar, fat or saturated fat in portion sizes that are much larger than we need. Nutrition labels on packaged foods are meant to educate us, but many of us struggle to interpret them," says Discovery in a statement.
If a product is not found on the app's database, users are able to send pictures of the product, its nutritional information and ingredient list to HealthyFood Switch. The information will then be processed, analysed and added.
The app, which has also been launched in Australia, New Zealand and the United Kingdom, is available to download on Android and iOS in South Africa.