Community investment takes to the Web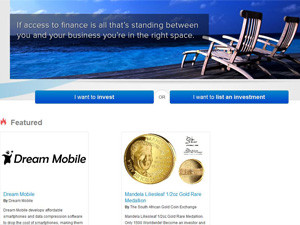 A Web site that allows people to put as little as R1 into a collection of assets, including property and classic cars, in a bid to grow an online community of investors, will go live over the weekend.
Crowdinvest claims to be SA's first crowd-sourced investment platform, and aims to broaden the local investment platform by lowering the barriers of entry to investors.
Founder Anton Breytenbach explains that anyone with R1 can invest in assets like classic cars, property and businesses. He says the site harnesses the power of physical and social networks, and gives people control over where their money goes.
"Many South Africans simply don't consider investment to be an option, as the vast majority of investment classes require at least R500 000 worth of capital," says Breytenbach.
"Crowdinvest was devised as a tool to make an investor out of anyone, capitalising on the power of online networks to allow like-minded individuals to effectively collaborate on investment opportunities."
Investors can choose where to put their money based on information provided, which details the financial variables, expected returns, as well as risks, says Breytenbach. He notes that he spent 18 months making sure the site complied with SA's laws.
Crowdinvest is potentially attracting a new market of investors who have not previously put cash into traditional areas such as stocks, notes Breytenbach. The site provides financial tools and conducts due diligence on the businesses, but also encourages people to do their own research, he adds.
Easy capital
Breytenbach says local entrepreneurs are very limited when it comes to financing options, and as a result, many great start-ups never make it to fruition.
"Crowdinvest makes capital far more readily available to a wide range of potential entrepreneurs, and this solution will hopefully empower them to take that next step and convert their concepts into successful enterprises."
Crowdinvest accepts any type of investment, but does not act as a source for seed funding, says Breytenbach. He explains these concepts are referred to incubators until they are investment-ready, at which point the company will re-examine their prospects.
In order to become listed as an investment, companies can enter their contact details and will receive a response via e-mail, says Breytenbach. Later, the site will make an online application available, he adds.
Investors put cash into a virtual wallet on the site, and from there select an investment. If there is not enough uptake, the cash is put back into their wallets, which also gives the community an indication of whether the venture will be a success, says Breytenbach.
There is a network of 800 investors already lined up, and two deals that people can place their cash into, says Breytenbach. These are Dream Mobile, a recent start-up, and an offer to own a part of a gold coin by the South African Gold Coin Exchange.
Payments are made using either PayPal or PayFast.