DA premier hopeful vows to fight e-tolls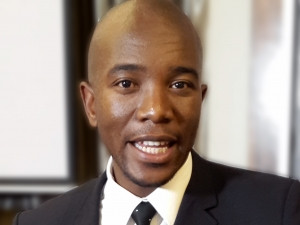 The ANC government in Gauteng said yes to e-tolls. They betrayed the people."
This was the statement made by Democratic Alliance (DA) Gauteng premier candidate Mmusi Maimane this morning, as he took to the podium once again to address the media on the issue of government's hotly-contested open road tolling project - and his three-tiered plan to thwart it.
Announcing his plan to fight e-tolling "at every turn", Maimane positioned the cause as an election promise, saying provincial government is a platform to fight e-tolling. "The final decision on whether to toll roads may rest with the ANC-led national government, but the provincial government can and must fight for the best interests of the people of Gauteng."
He said government's tolling of Gauteng's roads was just the beginning of a wider plot to introduce the system elsewhere. "The public must know the gantries we see on our highways are only phase one of the e-tolling project."
Maimane outlined a three-part plan he believes will sway the powers that be and get e-tolling squashed. "When the SA National Roads Agency (Sanral) comes knocking on my door for my position on the further rollout of e-tolling, my plan will have three steps."
According to the DA election campaign, these include a province-wide referendum to allow the people of Gauteng to vote for or against e-tolling, an interdict stopping any further rollout of open road tolling in Gauteng, and the "constitutional mechanism" of an inter-governmental dispute to enter into mediation with the national government.
Legal action
This comes less than two weeks after Maimane called the media together to announce the DA had submitted an urgent application with the High Court to have the Bill crucial to the commencement of the e-toll system - the Transport Laws and Related Matters Amendment Bill (e-toll Bill) - sent back to Parliament.
The DA contends the Bill should never have been signed by president Jacob Zuma in September. The party believes the classification of the Bill as one that is dealt with exclusively at a national level by Parliament - rather than one that includes provincial input - makes it unconstitutional.
At the time of the media briefing, Maimane said the legal step would be followed by "massive interventions", which he would outline early the following week. This was, however, subsequently postponed to today.
Maimane claims the DA's High Court application - if successful - could delay the rollout of e-tolling in Gauteng, "until we get a chance to govern".
The DA mouthpiece concluded by vowing to continue to fight the system unceasingly. "Together we can fight e-tolling and build a better Gauteng."