Green energy saves R800m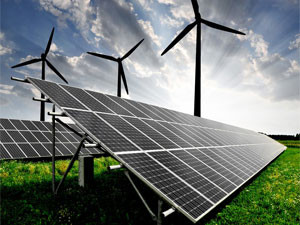 A Council for Scientific and Industrial Research (CSIR) study has found renewable energy projects using sun and wind created R800 million in net savings last year.
The independent study looked at how much additional fuel would have cost if the initial 1 600MW of wind and solar photovoltaic was not added to the grid, and how much the renewable energy saved because power did not have to be sourced from Eskom.
Several public and private entities in SA are going green. Projects already completed include Alexander Forbes' Sandton building and government's new environmental affairs headquarters. Others in development are a R2 billion Sasol building in Sandton, and Discovery's new headquarters in the same business district, at a reported R2.5 billion.
Less downtime
In the study, authored by Tobias Bischof-Niemz, chief engineer at the Integrated Energy Research Centre at the CSIR, the research centre found two benefits. The first was that renewable energy saved SA R3.7 billion because the country did not have to spend that amount on diesel and coal.
This, notes the study, meant 2.2 terawatt hours of power was sourced from wind and sun projects, instead of the national grid.
In addition, says the study, R1.6 billion was saved because SA derived almost 120 hours of what the CSIR calls "unserved energy". It explains unserved energy is the power the projects added back to the grid at a time when power constraints were so tight that energy would have usually needed to be curtailed.
Eskom, SA's national electricity utility, has been severally constrained in recent months due to a range of issues. As a result, last year it started implementing load shedding to stave off further power interruptions that could leave the country in the dark for years. Load shedding is expected to resume this month.
The CSIR notes renewable energy contributed a total of R5.3 billion in benefits, at a cost of R4.5 billion, which netted the country a R800 million saving.
Continued benefits
Bischof-Niemz says the study shows that, without the wind and sun contributions from SA's first renewable energy projects, the country would have spent significant additional amounts on diesel.
In addition, notes Bischof-Niemz, power would have been constrained for an additional 120 hours during last year. He adds the cost of renewable power is not at a point where sun and wind will continue to be financially beneficial for SA, "even in a future with a less constrained power system".
The CSIR's methodology was fed with cost assumptions from publicly available sources, such as Eskom's interim 2014 financial results for coal and diesel costs, the Department of Energy's publications on the average tariffs of the first renewables projects, and the Integrated Resource Plan on the cost of unserved energy.
Because the study is an outside-in analysis of the system operations, conservative assumptions for the system effects and for the costs of coal were chosen. As a result, the actual cost savings that renewable energy sources brought during 2014 are conservatively detailed in the study.
The CSIR will continue to monitor the fuel-saving and security-of-supply benefits of renewable energy.