Tech teams to tackle Cape Town water woes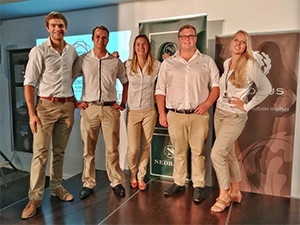 Four start-ups have been announced as the winners of the Water and Waste Management Innovation Challenge, aimed at developing solutions to tackle water and waste management in Cape Town.
Over the last four months, the LaunchLab, a network of university campus-based business incubators, in partnership with Stellenbosch University, Stellenbosch Innovation District and sustainable innovations organisation, Sustnet, ran an entrepreneurial challenge across the Western Cape to look for ideas, innovations and potential solutions that may positively impact or improve the water and waste issues in the province and around SA.
The four wining start-ups, chosen from 11 participants, were:
Revolute: A soil moisture monitoring system that uses calibrated sensors to measure soil moisture developed to help farmers conserve and monitor water usage - designed by Jacobus Els and two other colleagues.
GreenChain Technology: An automated grey water recycling system, integrated with a rain water harvesting solution - developed by Peter Turner and Styger Kruger.
Bridgeiot: A smart geyser control system on an IOT platform aimed at providing instant notifications to users on their water usage - developed by Jurie Erwee and three other members.
Eva Africa: A solution to reduce water evaporation from dams using plastic balls designed from recyclable materials that float on the water - developed by Bettina Botha and four other members.
According to the LaunchLab, the four winners each win seed funding and incubation support, which will be used to further grow their business ideas. For the next six months, the incubator network will monitor the development of these business ideas to gauge their potential to positively impact or improve the water and waste issues in the Western Cape and SA.
"SA is currently facing a multi-faceted water crisis, which, if not addressed effectively, has the potential to significantly limit the economic growth potential of the country," says SA Integrated Water Quality Management Plan. "The Western Cape Government is currently busy with a review of the Sustainable Water Management Plan. The government's role in water management is imperative; however, achieving more sustainable outcomes requires full participation by universities and researchers, the private sector and citizens."
The Water and Waste Management Challenge, which presents an opportunity for every innovator to get involved in the solutions, falls under LaunchLab's Ideas Programme, which is the entry point into LaunchLab's Lift-Off incubation programme.
"This challenge as proposed by Professor Leopoldt van Huyssteen, the outgoing COO of Stellenbosch University, is exciting, not only because of the opportunity to find solutions to our current water crisis, but also as an example of how a community represented by the Stellenbosch Innovation District can come together to solve a grand challenge. We look forward to being involved in more ecosystem partnerships like this in the future." says Philip Marais, CEO of LaunchLab and chairman of the Stellenbosch Innovation District.