TouchTutor Quiz gets a makeover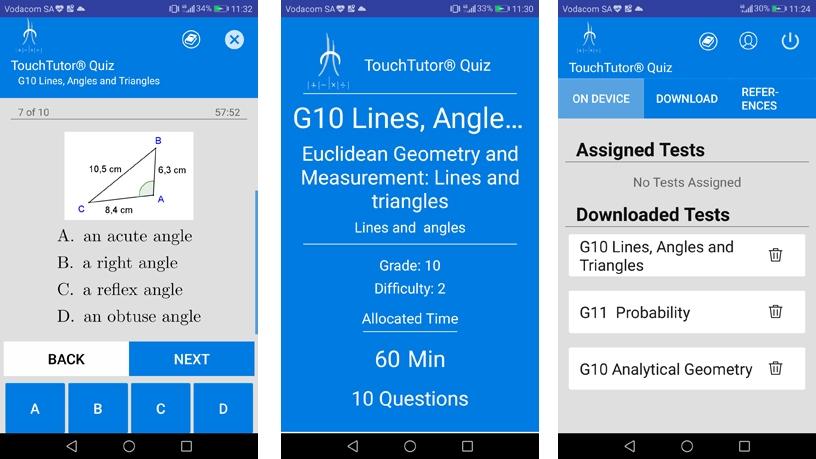 The Govan Mbeki Mathematics Development Centre (GMMDC) will today launch an updated version of its learning app, TouchTutor Quiz, a spinoff from the original TouchTutor app introduced in 2012.
The updated app contains new features, including a range of reference material in maths and science, as well as online competitions and assessments. It also uses minimal data.
This is according to Phil Collett, mathematics project manager of the GMMDC at Nelson Mandela University (NMU).
"TouchTutor Quiz was developed by the GMMDC at NMU in collaboration with IT company AvoChoc, and was created with the desire to make learning material, language support, assessment and practise for maths and science freely available to all learners on their own mobile devices.
"It is primarily aimed at high school learners and teachers, but can cater for any subject at any level. Loading primary school content can be done, but may require partnership with interested teachers or schools."
The app was previously only available on tablets and desktops for pupils in GMMDC project schools, with a laptop-based teaching resource for educators to make use of, notes GMMDC director Werner Olivier.
"The updated app can be used by pupils, teachers and schools anywhere in SA and builds on our existing programmes, which have led to improved understanding and real results in the classroom."
The user downloads the app and then registers on the platform, explains Collett. "The app then has options for practise tests, assigned tests which are scheduled for specific times and accessing reference material and language dictionaries in eight South African languages. The user's record of test performance and their profile are always visible.
"Users must be online to register and download tests, but may use downloaded material offline. Results are uploaded when the user is online again. All material is accessed by simply touching the options available. Question types include multiple choice, matching, sequencing, true or false, numerical and text answers."
Collett notes the app is primarily aimed at high school learners, but college and university students will find it useful as revision. The app can potentially be used by anyone who wants to implement assessment and access content for reference purposes.
In future, GMMDC plans to expand participation in its annual online maths and science competitions, says Collett. "We intend to add game elements to the app and host regular challenges. We will continually expand the range of questions and tests available. We also intend to offer a commercial service for customised assessment."
The updated TouchTutor Quiz can be downloaded from the Google Play store on any mobile device.
A similar initiative aiming to remove barriers to learning is video education firm Paper Video, which gives learners access to teaching offline using their mobile devices without needing any Internet connection or data.