Facebook live-broadcasts top newsfeeds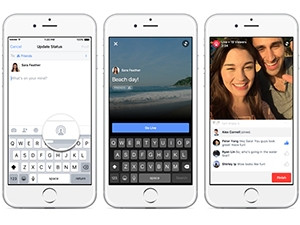 Live-broadcasts will now take centre stage in Facebook newsfeeds, appearing near the top when the videos are actually live.
"Over the last three months, Facebook Live video has become more and more popular, and more and more people and Pages are creating and watching live videos," said Facebook's Vibhi Kant and Jie Xu in a blog post. "As with any new type of content in newsfeed, we are learning what signals help us show you the most relevant Facebook Live videos for users."
The company has found people spend more than three times longer watching a Facebook Live video on average compared to a video that is no longer live. "We are making a small update to newsfeed so that Facebook Live videos are more likely to appear higher in newsfeed when those videos are actually live, compared to after they are no longer live," explained Kant and Xu.
The term 'live-broadcasting' refers to a mobile user live-streaming themselves over video to a private or public audience. Last year, numerous apps dedicated to live-broadcasting were launched - highlighting a changing trend in how audiences are consuming news: instantaneously and in real-time. Live-broadcasts provide the viewer with a first person view of the person or event.
To share live video, users tap "What's on your mind?" at the top of newsfeed and select the live video icon. There they can write a quick description and select the audience, either a select group of friends or public, before going live.
During the broadcast, users will see the number of live viewers, the names of friends who are tuning in, and a real-time stream of comments. Broadcasts will be saved to the user's timeline afterwards.
Facebook Live was launched in August last year, originally only for public figures and celebrities, through its Mentions app. It was then expanded to all users in the US in December.
The feature is already available in South Africa for iOS users.
Last week, the company announced it would expand the live-broadcasting feature to Android users in the US, with more countries to follow soon.